Shopping Cart
Your Cart is Empty
There was an error with PayPal
Click here to try again
Thank you for your business!
You should be receiving an order confirmation from Paypal shortly.
Exit Shopping Cart
Training and everyday events.
| | |
| --- | --- |
| Posted on July 31, 2016 at 3:07 PM | |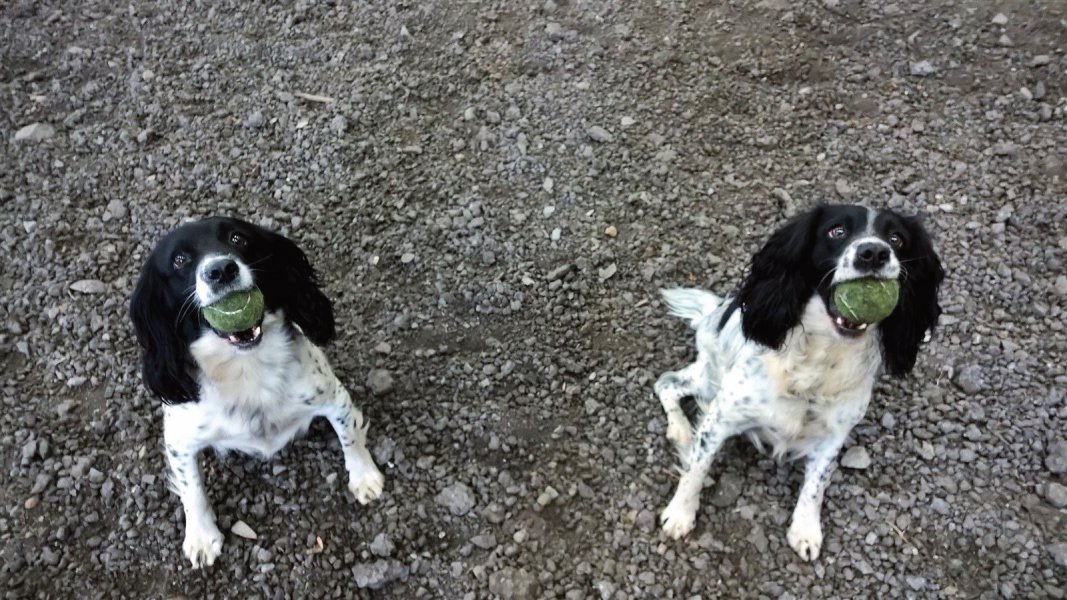 This month I have been teaching Tinks Left & Right by movement and verbal command. This month I have also taught Jay-Jay the verbal command of 'Left' & 'Right'  as previously she only had one verbal command for going right or left depending on which arm movement I made. As you can see they are doing well, and only with 3-4 short very lessons a week.
So I am very pleased with them, they have listened well and had fun.
To teach dogs Left and right by arm command gives the dog a greater chance of getting the retrieve, and we need that to enable a fast retrieve of any game we send the dog for, especially if you know where it lays but the dog does not.
If your dog just know the command 'Out' followed by just a throw of the hand and no clear Right or Left movement from you, you limit yourself and thereby you limit the dog, and you may have to give far more arm throws and 'Get Out' commands to get the dog into the same spot than a dog with a good straight Out-run and a sharp stop to the whistle with a then silent left or right arm command. Makes sense doesn't it, after all imagine yourself shouting 'Get out, Get out...' on shoot day when the dog has been sent for a blind and is only guided by throwing of the arms and your shouting at it that command, compare that to the far more silent option which has far more accuracy!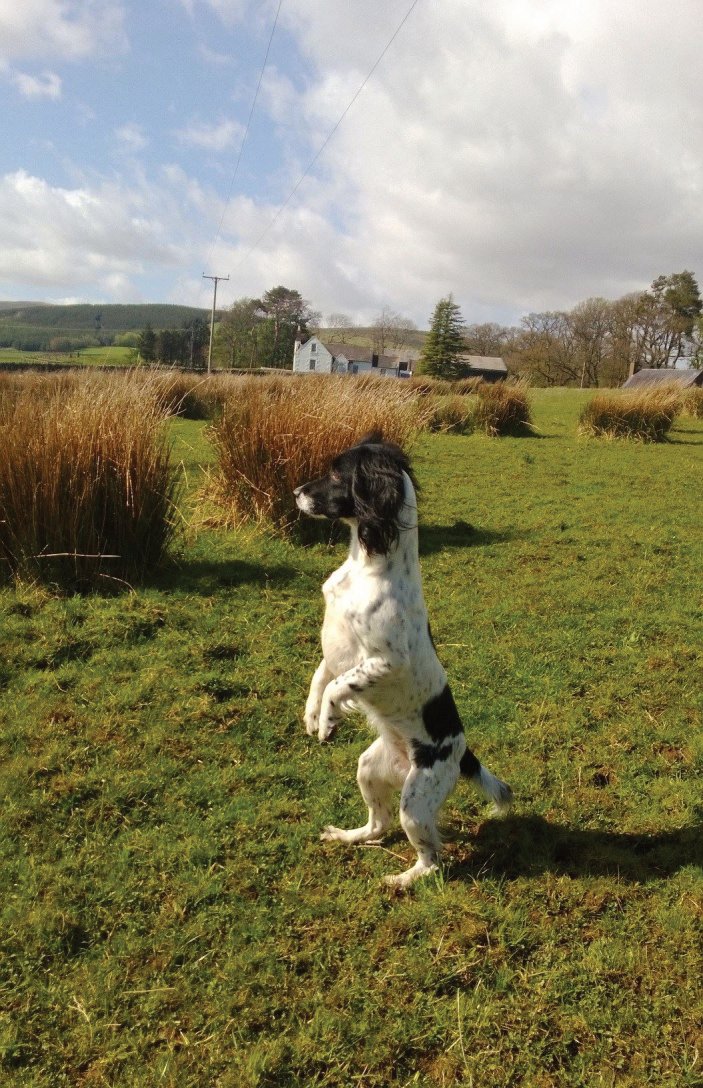 If your dog is in the wood and can't see you or in really deep cover, how handy would it be to be able to say 'Right' or 'Left' and your dog go right or left depending on the one you asked for.... very Handy.




Now I am Lucky in that Jay-Jay will do a Meerkat when she is unable to see me or when she needs to do it to mark the fall of the game, and she does it without moving forwards or backwards just upwards, which most Judges and trainers love as it shows brains for starters and an ability to mark game the sitting down dog (or if you beat it) the lying flat dog would not see, and therefore Jay will see the bird land and get to the fall. But, if your dog doesn't do the meerkat impersonation or cannot because of the environment it is in, well then that 'Left' or 'Right' command could come in very handy. Now it won't be needed all the time as your dog will often see many falls, or will see you (maybe you need to move a tad if you can to enable that), but there are those times it will be greatly useful.




The you tube clip below shows you Tinks and Jay-jay as they are taught these new commands by myself over this month of July. 




To teach Tinks the Left & Right direction command via body and language, I broke it down for her and started by teaching her just the body Language when I sent her for a 'Back retrieve'.

This I did by sitting her directly in front of me at an angle that would make her want to go the way I wished her to, as you can see in the video it worked a treat. 


You only need to sit the dog at an angle while the dog is starting to learn this new command. When teaching a dog something new one should always set the dog up in way that aids the dog, once taught it's a different matter .




Now both girls have been previously taught, to varying degrees, to run straight lines left and right by my making a clear and straight movement with either right or left arm and a vocal command 'Out', not a throw away arm movement that just sends the dog in a wide section to either side, but a clear signal for a straight line.

But now of course they are learning the vocal commands 'Left' or 'Right' and that is learnt through repetition. Of course as far as the dogs are concerned Left and right could be called 'Fish' & 'Chips', as long as you always use the same word for the same direction. Because they know the arm movement I can just put the new word with the move, and repetition will lock it into their memory bank.

I then add temptation by throwing a beloved ball over Tinks head to land behind her, then asking her to go either right or left for a dummy instead of going for her ball, and if she got it wrong, the most she would get is a verbal 'Ahhh', which seems really loud on the video but that was only because my mouth is very close to the mobile. Always remember to praise for the stops, the stops must be praised as you want the sits to be well and truly locked into their memory, and locked in through only good memories. 





I am lucky enough to then be able to add another dog (Jay Jay) into the mix for Tinks, it helps Jay-jay to learn patience so its a win win, even more temptation to  for them both, and when I think I can I ask them to cross one another for a retrieve I do, this asking really demanding high concentration of them.














The video is a mixture of mobile video and camera video so please forgive.




As always, no dog was Hit at any point, it isn't needed, whether you gloss it up by calling the hitting of ones dog 'Correction/redirecton' or any other name, it is Not Needed and shouldn't be done. Learn to teach a dog with kindness, as many of us do, OR don't teach, for no dog deserves it!








Categories: Alfinmarsh Jays Justice, Alfinmarsh Andromeda and Ftch Deepfleet Jay's puppies, Seen retrieves, Shoot day, Video clips

0

/