Shopping Cart
Your Cart is Empty
There was an error with PayPal
Click here to try again
Thank you for your business!
You should be receiving an order confirmation from Paypal shortly.
Exit Shopping Cart
Training and everyday events.
I wrote this piece below for the Video Clip section, but I thought I would share it here as well, well I do like to ramble, he he he! 
The wonderful thing about a spaniel for working is,
  when you have a spaniel by your side you need no other breed of dog next to you for they are the 
Perfect All-rounder, and a super companion!
To work with a spaniel as a team, and to know that your teammate could be totally self employed and yet he choses to work with you, listening to you, well that is an experience that cannot be explained in words but is most certainly some form of Rush!
It is sheer bliss to have your dog working through the hedgerow and cover crop as if either were a row of cotton sheets hanging on washing lines blowing gently in the breeze on a wash day, and yet with the adrenalin of a toddler on Christmas morning buzzing through his body, and yet still he keeps one ear open in case you speak to him,  an awareness to where you are in case you gesture something to him or change direction, for you and he have learnt over the years to read one another slightest movement, you have both learnt that when you work as a team Great fun is to be had, and What a Team you make!
It is not only your dog and yourself that are blessed by your partnership, but also the guns,  and that matters that they benefit for on shoot you are all a circle and no one part is greater than the other, but without the Guns finances, that land those birds and even the beautiful wildlife that thrives in that environment, would not be there.
The Guns benefit greatly by a well trained dog, for you and your dog can work as a team pushing the birds out of the crop and into the air, like the flow of a stream that bubbles down its pathway flowing into all the little nooks and crannies exploring them on it's way creating little drop-off points for fish to rest. You and your dog need to flow through that cover crop/undergrowth at a pace that will give the pheasant ahead time to find the nook or cranny to rest, whereupon your dog will find it and flush it straight into the air... all this done at a pace that does not make the pheasant go into a frenzy and rush straight down through the cover crop to the end of it to fly in one all mighty crescendo with the other pheasants, or enable it to loop behind you.  This flow gives the gun time to reload and aim with accuracy again and again and again, instead of that almighty crescendo that gives him no time to reload or aim with accuracy, for that makes a possible fabulous drive turn into a complete loss for the guns, and that is not what we want to happen.  
There is always part of me that hopes the guns miss, but I am a meat eater, the pheasants live a free life and are supplemented through nasty weather by the game keepers/shoot, heck the humans even create places were the pheasants can shelter, and if we beaters and pickers-up do our job properly and the guns give the respect to the birds by not making stupid shots, then we have done ok!
And I suppose that is what Gamekeepers, Guns, Landowners, beaters, and Pickers-up all should aim for, and I would hope most do
To respect the animals, make their lives good and give a clean kill as possible, protecting and respecting the wildlife and countryside around. NOT beating our dogs (hitting/discipline whatever you call it to soften the sound of the act) in the name of training, killing birds of prey,  or treating our woodlands as if there will be no next generation. That behaviour isn't for people who truly love nature or dogs or the environment. And if you love all three, well stop protecting those that do not with your continual silence for those people/acts are the ones that people outside the sport see and tar all of us with that same brush. Stand up for what was passed down to us, and what we should now be guardians off, for our forefathers understand the land and mother nature and respected it, machines' have enclosed us of from it to a degree, yet us who walk/work the land on foot tread the same path and should respect all of mother nature and her animals, let us either leave it as those forefathers would want or improve the land and the wildlife for the next generations.
I hope these videos help you, and shows you that dogs can be trained with Love and common sense and with no need or right to use physical violence!
When your dog is trained and ready to go on shoot with you, I hope you find a shoot with the same principals as I and many others have, and that many wonderful winter days follow from it!
Why Cruelty Does Not Pay


The reason I do not agree with physical punishment toward dogs is because I find it cruel and consider this to be poor and lazy training, and to the dog and your own self detriment. Training with physical punishment/correction, whatever one wants to call the hitting of their dogs, does not even give you a better dog than if it was trained with  Kindness, Respect, good Tones of voice, practise and Good Timing.
 I shall explain why
If one listens to some trainers/handlers they will tell you how they will allow the dog to run in after the dummies up to the age of 10 months or even older in some cases, this is (they believe) needed to create drive and also (mainly) because until then the dog would not be able to take the physical correction that is about to be given to them by the trainer/handler.
When the dog reaches that age/maturity/size the trainer/handler will then teach the dog to sit/stop and not run in for the retrieval item anymore, and of course by then the young dog has been happily running after everything that the person has thrown for the dog and therefore it has become a very strong habit, and as we know, even for ourselves, Habit are hard to break.
 The way they will teach the dog at that stage of its life is by harsh methods, some will hit the dog, some will shake the dog and some will do both to the dog, and I have even seen a dog being booted for it, terrible. All of these actions done under the title of 'correction, a negative, teaching', all softer words than the actual acts themselves, the true words that should be used are 'Hitting, kicking and/or physical punishment'. They will not use the correct words as they know the correct words depict the act in its true light while the other words sound softer and kinder and give them (they believe) an 'excuse, reason, justification' for training in that manner.
All this to teach a dog to no longer run in after the dummy until given permission to do so, to teach a sit basically, just a sit, an easy task but one the dog being trained in this way will not get right for quite a while as it will keep moving (often than not) towards the Handler/trainer to appease that person and prevent the continuous hitting. Sadly the trainer/handler will more than likely read the dog wrong and see the dogs movement as a sign of defiance/ naughtiness or both, from then on in the dog will lose out.
The trainer/handlers method will have to be done until the dog no longer moves from the sit, which can go on for weeks/months just to teach the sit in that position, and then of course the dog has to be taught to sit in different environments and under different temptations, so this method of training would have to be carried out on many occasions. This can become a battle the dog greatly loses as the more times the trainer/handler hits the dog the harder the dog wishes to stop that person hitting it and therefore the dog keeps moving forward towards that person to appease and prevent the next hit.
 In the old days people called this 'breaking dogs' as some trainers were not capable of nurturing a dogs natural drive so therefore had to let it run riot, and then when they believed it was old enough to withstand the beating, well then they would beat it.
By allowing a dog to keep running in creates a habit, and as we know habits are so hard to 'Break'!
Dogs trained in this way will often drop to the ground, which is the desired effect the trainer/handler is after, and you may think that to be good, BUT, this method has not been thought through because...
if a dog drops in fear because he knows previously he has been hit
 when the whistle was blown, the dog will drop and look to see where the Trainer/Handler is and then look away in fear and then back at the handler in fear unsure what to do to appease the trainer/handler to prevent what the dog knows may be coming, which is a hit, a shake or a boot. 
But the dog has to try and work out 'Why' is it being hit, Again another fault in this method of training. From the dogs point of view, when one corrects/hits a dog like this how is the dog meant to know which particular act it is getting hit for? The dog is hugging the ground, so could it be that? The dog looked at the trainer/handler, so could it be that? The dog looked away from the trainer/handler, so could it be that? Is the dog being hit for the movement towards the trainer/handler? or is the dog being hit for not sitting, or is he being hit for not staying??  All this while the dog is shutting down, for how can it think about what you are teaching it when 1) It does not know which part of the exercise it is getting wrong 2) Its mind is full of all the above thoughts.
 
It has been proven that a fearful dogs shuts down mentally, to a degree, and because of this the dog isn't able to take in the lesson, to varying degrees, or in the case of gundogs, be able to focus on looking for where the bird is landing, a priority for our gundogs.
If you train with kindness however and nurture the dogs drive and enjoyment of retrieving, teaching as the pup grows to sit and then continue the training to not running in, you will have a dog that sits (not lays down) and therefore can and will look all around for where the bird has dropped if he/she has heard the gun go off, or if no gun goes off to look for the handler to find out what the handler wants, its mind is totally open and free from fear of what the trainer/handler may do to it, it has nothing else on its mind at that time apart from the task at hand and you.

In my opinion you will get a far better trained dog if you train with common sense and kindness. To allow a dog to keep doing something that you will hit it for when it comes to a certain age does not create a dog with more drive than a dog taught with kindness and common sense. You will have wasted 10 months of its life, you would have missed the opportunity of teaching the dog as it grows many different things that will make a well rounded gundog. 
Train a dog kindly and with common sense and you will have a dog that goes like a rocket, listens happily to it's owner and marks wonderfully well for it is not flat out on the floor waiting to be hit!

To say 'to train with Kindness means one will lose drive' is ridiculous, I have heard this being said, in fact it is the opposite. To hit dogs knowing that they will forgive you in a heartbeat is cruel, and as I have pointed out, detrimental to your training of your Gundog.
Even if you take one picture/snapshot shall we say of the two different types of training let it be this...
A dog flat on the ground, Fearful with part of its brain occupied with thoughts of what it has done wrong and will it get Hit
OR
A dog sitting up free from fear, so clear of mind, looking everywhere for that bird, as in the video below.
Being Gundog breeds, so full of life and wanting to please, both dogs once released from the sit command may get up wagging their tails, but the one that was taught with kindness once the release command is given is off like a shot to retrieve the bird it marked, while the dog taught by hitting it is left confused as it didn't even see the bird as it was to busy thinking about the punishment that was to come!
Thankfully there are many Good trainers so Alfinmarsh pups stay away from Bad/Lazy/cruel trainers, please. Go to good kind trainers and have a dog sitting up, wide eyed and fully focused at the task to hand.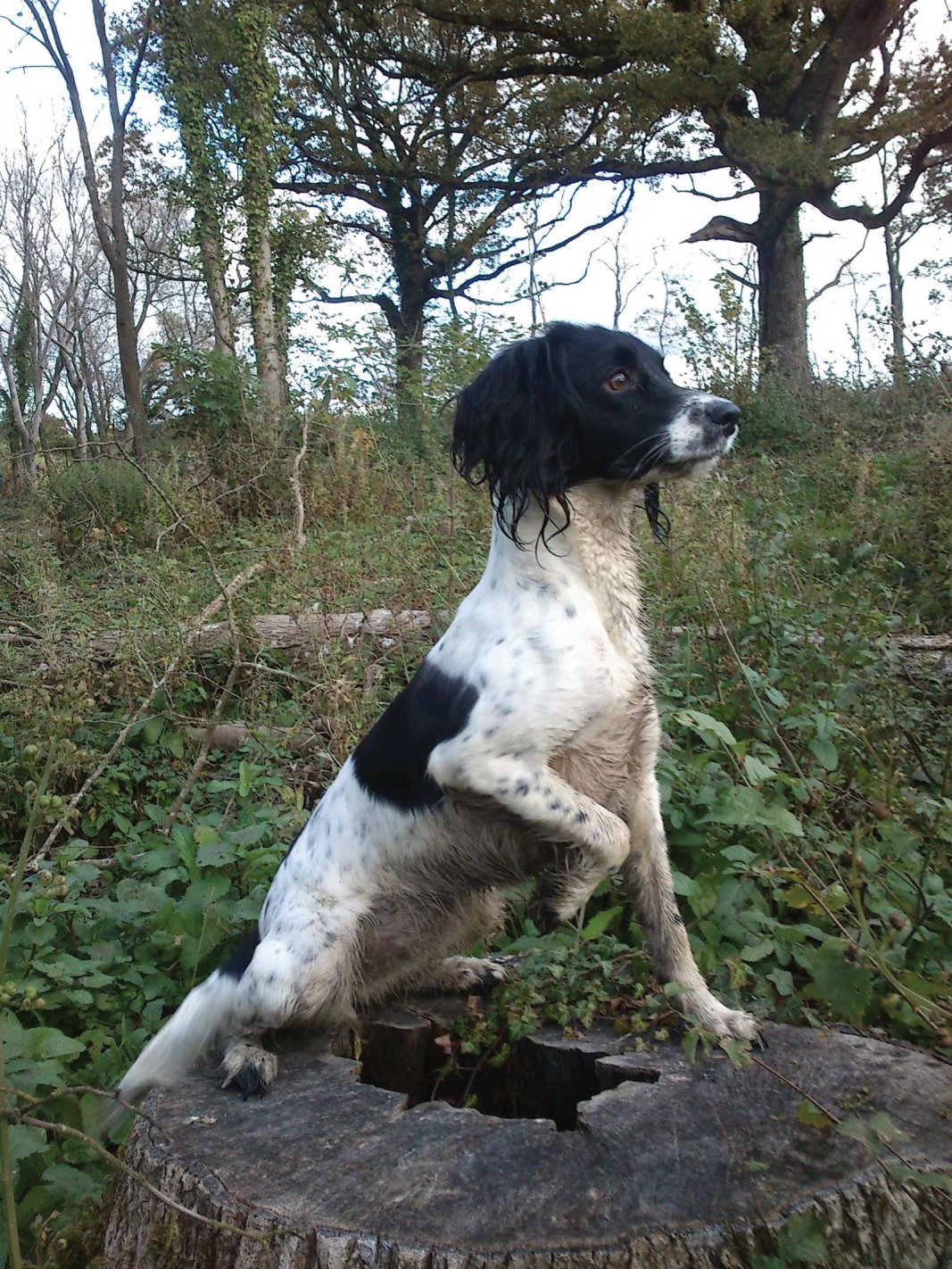 /