Shopping Cart
Your Cart is Empty
There was an error with PayPal
Click here to try again
Thank you for your business!
You should be receiving an order confirmation from Paypal shortly.
Exit Shopping Cart
Training and everyday events.
This is certainly the month where we start training the girls for the new shooting season, getting them fit and enjoying all that this process holds for us.
As a wise man once wrote
'The way to ruin a good gundog is to take it shooting'
So, as all dogs after a shooting season, Jay Jay and Mia will need their rough edges smoothed and with the knee not doing bad at all, we can get cracking on it.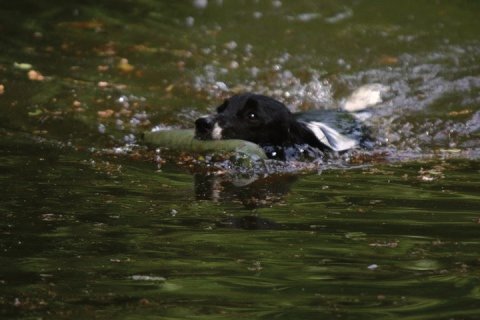 The video above is of Jay Jay doing some more water work, the puppies did not come with us this time as we wanted to just focus on Jay Jay.  She was a sweet pea once again and did all that I asked of her. Great way to get her fit, she loves it and I love it, can't ask for more!
Alfie and Bella although (as we call them) our retired guys, will also need to get fitter and more obedient. Bless them they can get slack on their recall when their children/grandchildren who live with their owners come to visit. Part of the reason being when we walk those two it is our chance to switch off as we are not training them for the coming season etc, we have a tendency to go nearly a whole walk without calling them, lets face it because they stay nearby having fun, why would you call them? The reason why is because they to start to switch off so when you do have to call them, they can, play death, bless them.
So for them, their training will be a spot of Dirty Dancing :) It reminds them to listen to me, and how much fun it is to listen to me, and as the water training with Jay Jay....
Alfie & Bella enjoy their dancing, it keeps them fit and I enjoy it, can't ask for more!  
The music was put to the clip by a wonderful man from face book. The clip has us in stitches when we watch it and I hope it puts a smile on your faces as well :)
May you all be enjoying your Alfinmarsh babes and this very mild weather
/