Shopping Cart
Your Cart is Empty
There was an error with PayPal
Click here to try again
Thank you for your business!
You should be receiving an order confirmation from Paypal shortly.
Exit Shopping Cart
Training and everyday events.
I am forever on a learning curve and with a visit to Nick last week and a visit to Chris this week, both times to use their rabbit pens, I once again learnt new things and even a new term and Jay Jay got the practise she needs on game.
It has been difficult to find the time to get to either Chris or Nick's places, we haven' been to Nicks since before January, though we did manage to get up to Chris last month.
With the hope/plan being that we give Jay Jay plenty of game experience this summer before we campaign her in this coming Field trial season, I really hope that the gap is not so long before we get back to them as with life getting in the way, the possibility of getting enough time is very slim.
Hardly any video footage at Nicks pen as the camera card came up 'Full' not long after we started the session. It was the first time we had been in this pen, Nick built it last year I believe but of course when we go there during the winter we work outside the pens.
Both trainers are excellent and I would strongly recommend either one of them.
Tinks & Ellie, whilst still not getting enough input from us, are still our super gorgeous wild babies who with the little training they are getting, are doing well.
Plus joy of joys, today was the first day I was able to take Mia out, who has finally finished her season.  I am so pleased we made the choice not to breed from Mia this summer as my cherished memories from last season was working Mia and Jay Jay as a brace, she was fabulous on hardly any training so this year I want her fit enough to do the whole season with us, she loves it and we love having her there.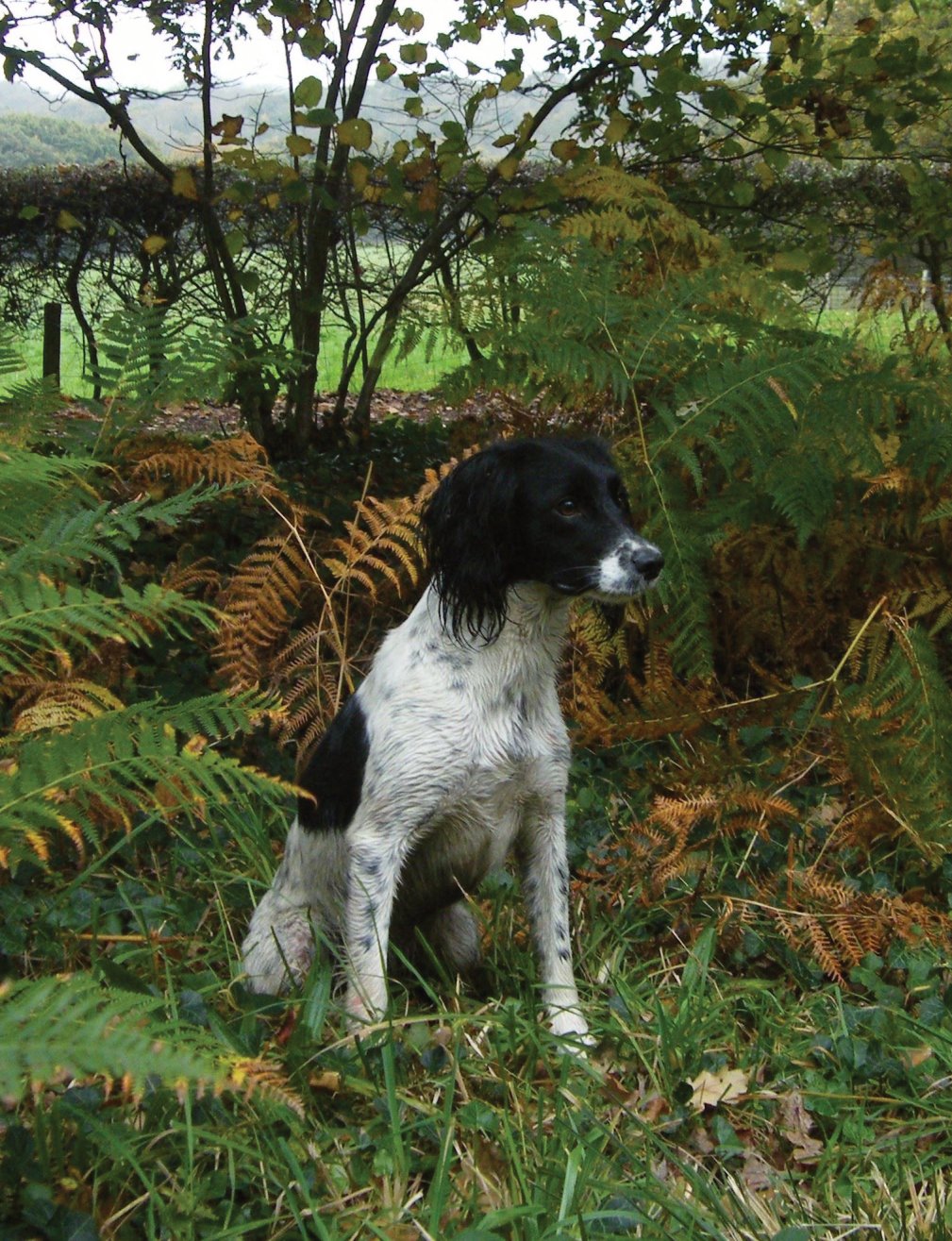 We headed off to Wiltshire on saturday for the last trial of the season and what a cracking day it was.
It was the London Cocker field Trial that had been cancelled in October at the last minute due to unforeseen circumstance, they had managed to schedule it to be held at Hartham Park.
The grounds where superb, the birds sat well and everything was catered for, even down to a porcelain toilet, sheer bliss!
We cannot thank everyone who had taken part in organising that day enough, the judges were very supportive, guns were faultless and the stewards where so kind as was all in the gallery. 
 Our first run was STONKING. She hunted well, flushed, stood to mark the fall and sat waiting for the command :))
I sent her as soon as the judge said too, and she went off like a greyhound as Jay Jay does. Someone shouted runner, so judge said to me,  'runner, run',  and we did run, round the corner in time to see her pick the bird gently up and then run back to me at full pelt :))
Everyone was sooo kind as I walked back to gallery, saying kind things to us about Jay Jay and her run :)
By the second time though she was so hyped and I was so busy watching where I put my feet because of my knee as we worked through a tricky area that she got further away then one would like, blew it really :(
But we still came away with a Certificate of Merit and I came away like a grinning idiot thinking about the first run and all the kind things people had said. Judges gave us excellent feed back and advise :))
A perfect end to a season we nearly missed out on. We cannot wait to trial her next season with a summer of training under her belt.
 We took the girls on shoot yesterday and to add to a good day one of the puppy owners came along with their 18 month old Alfinmarsh Forrest.
He will be joining the shoot now and his wife will be joining with her cocker, which is great as it means we will have the added joy of having another Alfinmarsh on shoot.
Thoroughly enjoyed the shoot working the girls together, especially in my favourite areas which is the mixed cover crops and the dense coarse bushes.
Though what I wrote in the previous up-date, that I was worried that temptation may start to pull Jay Jay forward with so many of the other shoot dogs working forward, DID happen. My angel Jay Jay who has for a long time now hasn't been herself pulled forward whilst working and talk about deaf ear, bless her.
Most of the time though it was a Joy to work the girls.
  I worked a small mixed cover crop strip with a chap who had brought his lab on shoot for the first time, therefore was on lead. Gary was with Mia... in the woods on the side of crop.
If it had been a trial, the first half of the cover crop the judge would have said about Jay Jay 'Lovely, lovely dog' she needed no whistle worked beautifully and put a couple of birds up stopping at each one :)
Second half of the cover crop the judge would have tapped me on my shoulder and said 'sorry Miss but can you regain your dog and leave' he he he :)) Mama Mia joined me 2/3rds in and the girls worked the crop together beautifully :)) 
 All in all, mama Mia = fab :) Jay Jay = some good sections some really naughty, naughtiest she has ever been.
Leconfield Field Trial on the 9th
What a cracking bunch of people there was at the trial, Gary and I chatted, caught up and had a giggle while we waited for our run which was not for a while seeing as we were number 15th to run.
After the shoot day we knew that whilst Jay Jay looked stunning most of the time she worked, that she was/is going through a teenage stage but little did we expect her to do what she did.
As soon as we started our run Jay Jay hit onto scent, I thought 'yes' we could have a good run here, FAMOUS LAST WORDS. Within minutes she flushed a pheasant out of the brambles, sat as the gun shoot at the bird, the gun missed the bird but it flew low and landed quickly in the brambles. Jay babe, bless her presumed it had been shoot and without waiting for my command ran in to retrieve it. Yep, that was the end of the trial for us and poor Gary was in pure shock as he said 'she has never done that before'! Well she has now Gary he he he
Well Jay babe and I nearly hit the same mountain we hit when I did my second working tests.
We went into our first field trial with confidence and Jay & I did well. I then got verbally knocked by a person with 'green eyed monster syndrome' just before I took part in our 2nd Field Trial, which is exactly what happened to me before our second working test, and once again I let it effect me as I did at the working test :(
I had convinced myself this time that I didn't let it effect me but on reflection I know I did.
Jay Jay has not been right  for over a week, nearly 2 weeks now and so we gave her a break after tuesdays trial. She and I had not performed  at the trial anywhere near to the standard that the little girl can, even though we still came away with a Certificate of Merit, once again.
Took her out yesterday and within 2 minutes, ok maybe 3mins, she did what she hasn't done since the working test period which was to come running straight back to me on direction work and she did it again and again and again.
So I kicked myself up the backside as I know she does this from a combination of a pinch of naughtiness,  a huge dash of lack of confidence in her handler and big dash of those bloody vibes I must oooooze when I am in doubt of my ability to guide her through new experiences.
So, plan of action, I couldn't get strong with her, never do anyway, I just had to be firm yet praising, ask for perfection without intimidating her and most of all, not kill her or me he he he :)
We stayed out there for a while, BUT, Jay Jay & I come home with a grin on our face. We had worked through it and she was once again doing exactly what I asked of her without her running back to me.
Now I am fingers crossed that she does not do it again today when I take her out
BUT, she and I didn't fall apart so badly either yesterday or at the field trial as we did at the working test so that is a positive.
As they say
'what doesn't kill you makes you stronger'
 so you could say these people are doing me a favour as I am learning (still learning) not to allow them to effect me :))
A friend that bullies us is not a friend and the only way to deal with bullies is to show strength.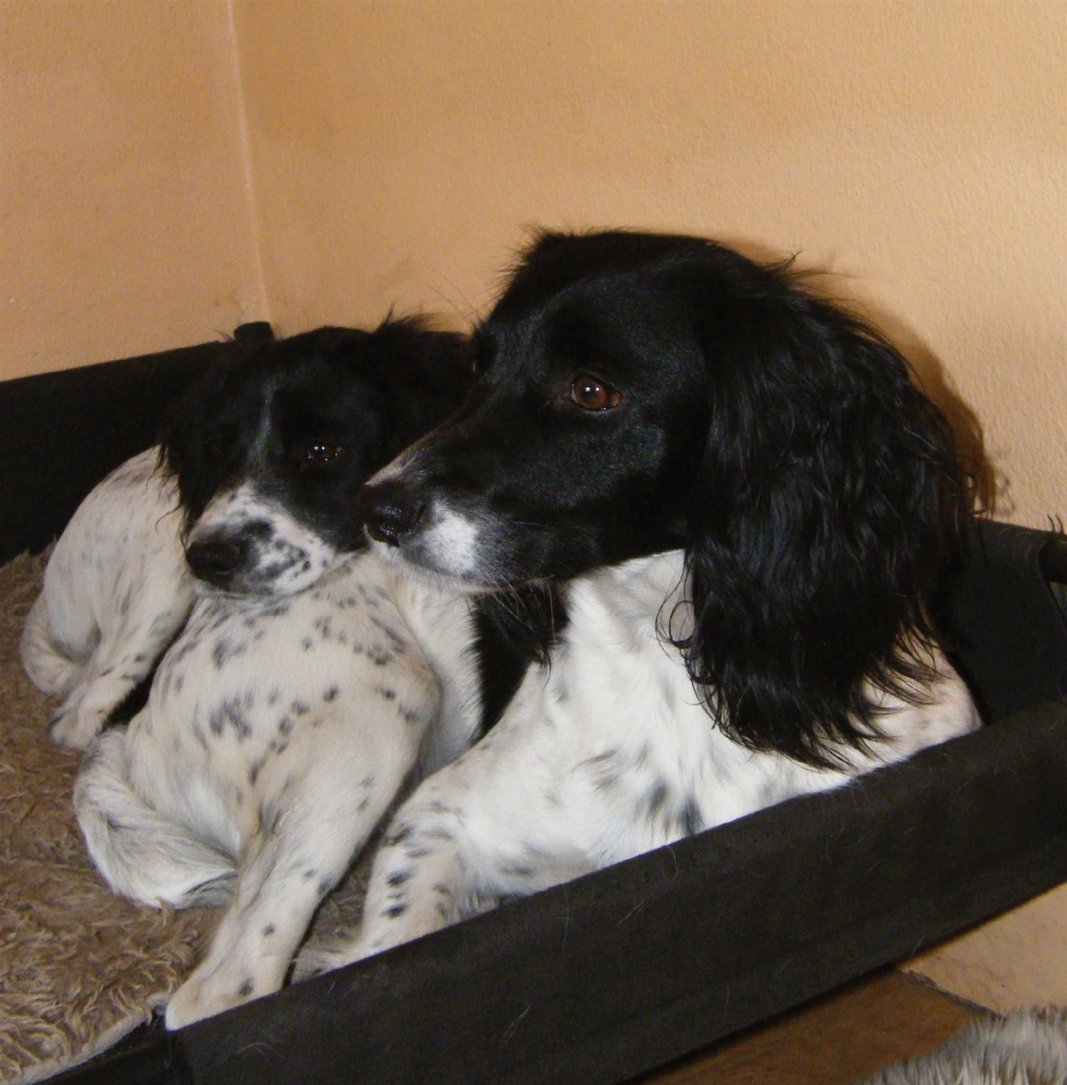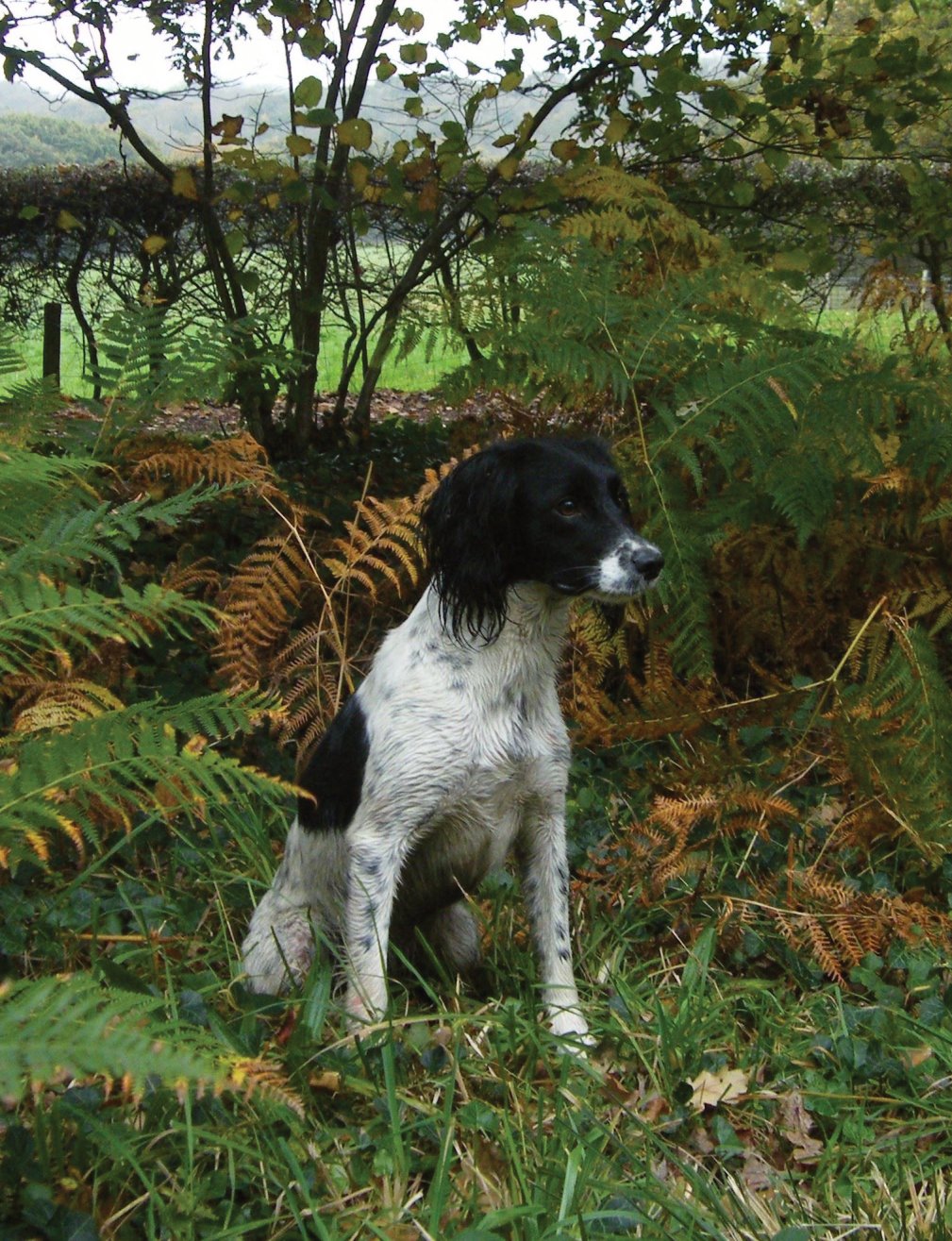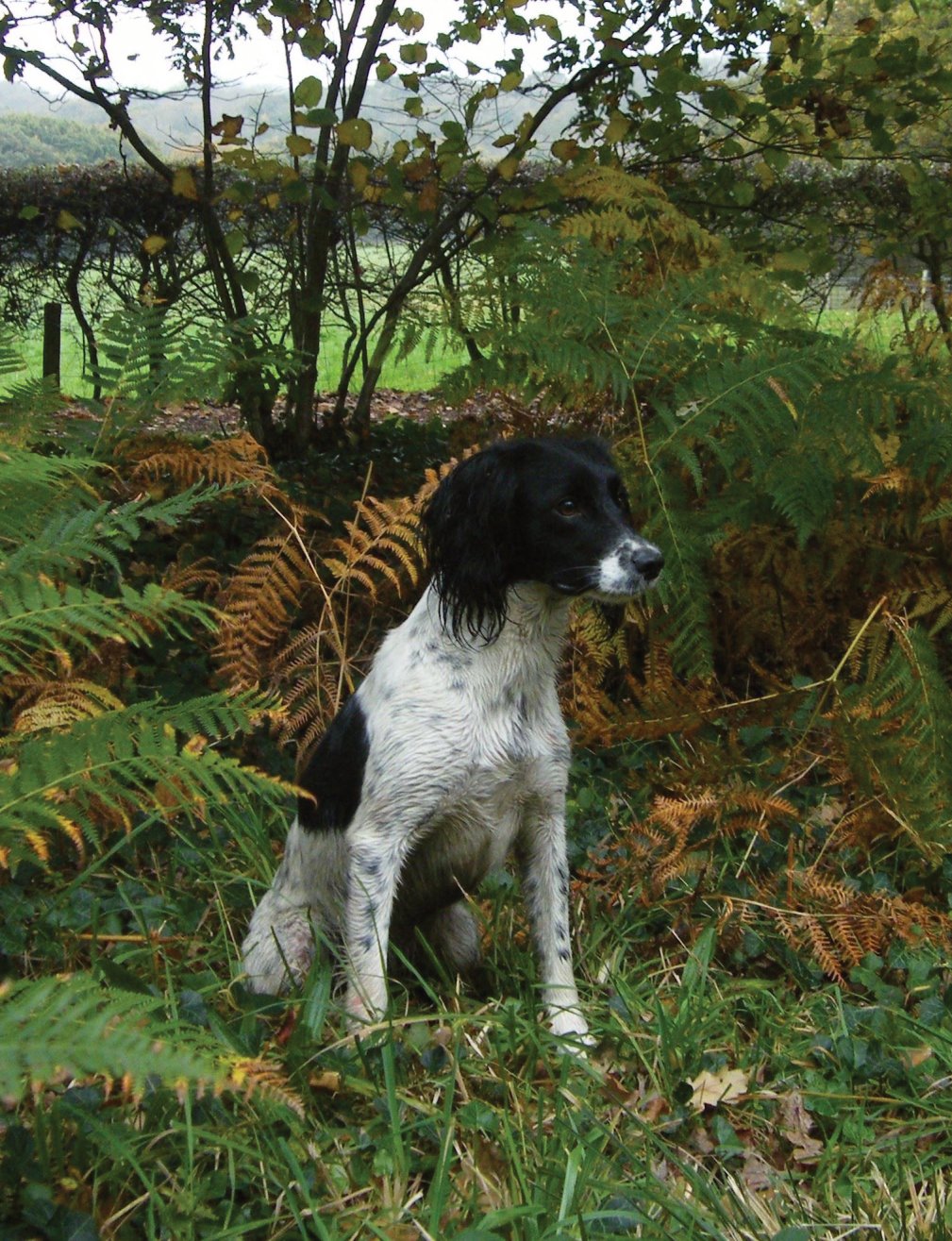 Well we headed off to Dorset at 6'00, Tinky and Ellie in the back with big sister Jay Jay as we couldn't leave them home all day.
We arrived on time so was able to get the pups and Jay Jay out for a quick toilet and stretch before the field secretary called us together to brief us all and introduce the land owners, judges and guns.
We was number one on the cards  so after a walk up to mixed crop field, we were off and running .
It was a dense crop but she worked it well, though who forgot to put on her waterproofs and who is so short that she got saturated up to the knees? you guessed it, it was I.
She did a Meerkat impression to mark the fall of the bird and marked it well, straight there even though the dense of the crop meant we could not see her or it. With first run done I was a happy relaxed bunnie
Second run was in the woods and sadly I got a bare patch of wood that didn't hold anything and a short run as time was moving fast on the day. Did however get to retrieve a bird on the other runs side.
She took a wonderful line and was working towards it when a misunderstanding between the judge and gun meant she was stopped, once they had sorted things out I was able to send her and the sweetie that she is was not put off by all the misunderstanding, took the line and went straight there.
Our first trial was done and we were all happy.
Jay Jay got awarded a Merit and the guns who get to award a dog they think to be the best dog of the trial, told me afterward that they had placed Jay Jay in 2nd place. I was very pleased :)
She has only had one weeks worth of training in 9 weeks, what a little gem.
One of the professional guys came up to us and said 'well done', left me like a grinning idiot. Also told by one of the professional that the trial would be the hardest novice trial we would ever do, that trial being particular hard work for all the dogs. 
I think apart from myself and one other person, the other competitors were all known and very well known trialers, but we were certainly put at ease by them.
We meet some cracking people and that was our second time we had meet with the Dorset Working spaniel club and both times I was made to feel relaxed.
Cannot thank the club, Judges, guns and Landowners enough for giving us such a  
/