Shopping Cart
Your Cart is Empty
There was an error with PayPal
Click here to try again
Thank you for your business!
You should be receiving an order confirmation from Paypal shortly.
Exit Shopping Cart
Training and everyday events.
I am forever on a learning curve and with a visit to Nick last week and a visit to Chris this week, both times to use their rabbit pens, I once again learnt new things and even a new term and Jay Jay got the practise she needs on game.
It has been difficult to find the time to get to either Chris or Nick's places, we haven' been to Nicks since before January, though we did manage to get up to Chris last month.
With the hope/plan being that we give Jay Jay plenty of game experience this summer before we campaign her in this coming Field trial season, I really hope that the gap is not so long before we get back to them as with life getting in the way, the possibility of getting enough time is very slim.
Hardly any video footage at Nicks pen as the camera card came up 'Full' not long after we started the session. It was the first time we had been in this pen, Nick built it last year I believe but of course when we go there during the winter we work outside the pens.
Both trainers are excellent and I would strongly recommend either one of them.
Tinks & Ellie, whilst still not getting enough input from us, are still our super gorgeous wild babies who with the little training they are getting, are doing well.
Plus joy of joys, today was the first day I was able to take Mia out, who has finally finished her season.  I am so pleased we made the choice not to breed from Mia this summer as my cherished memories from last season was working Mia and Jay Jay as a brace, she was fabulous on hardly any training so this year I want her fit enough to do the whole season with us, she loves it and we love having her there.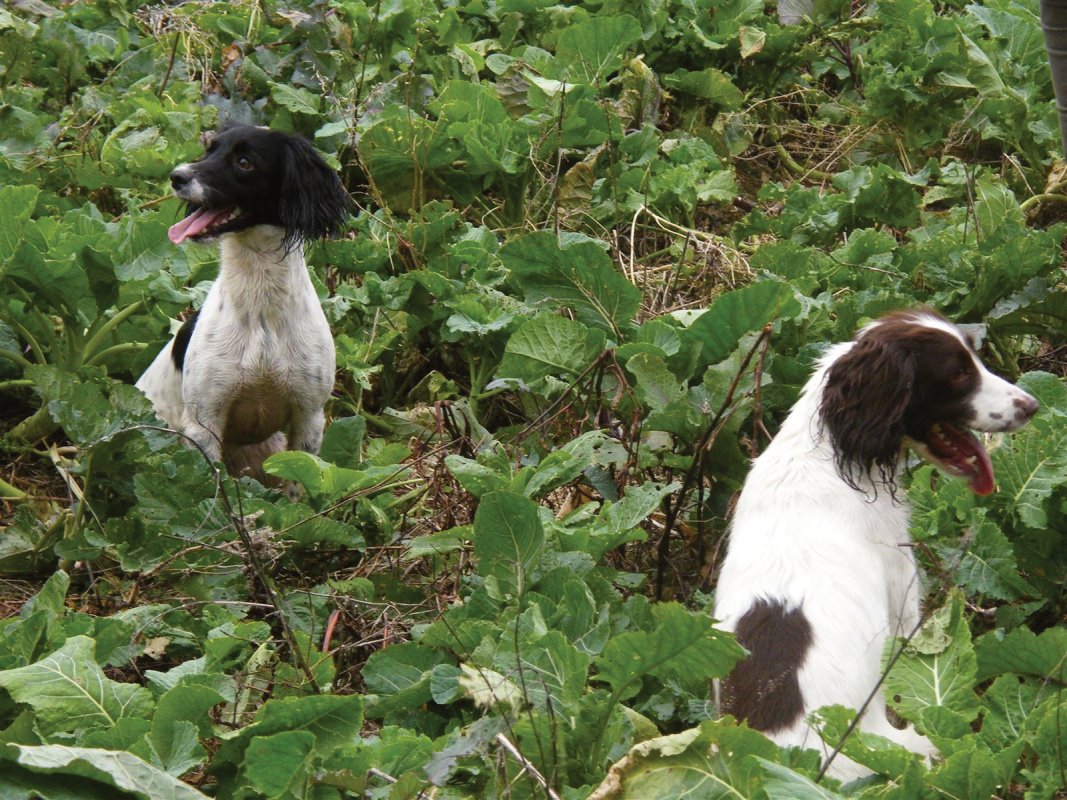 Well yesterday was the end of this shooting season for us at the
Hundred Acre shoot
which is quite sad that the shooting season is over but it does mean we will now have time to work on Jay Jay and start the puppies training.
They really are a cracking bunch of people at Hundred Acre shoot :)
With the guns being such Gents, the beaters/pickers up being such a lovely bunch of people to spend time with  and the shoot captain who throughout the year puts the hard work in and then he has to cope with what must be the even harder work, which is to deal with guns and beaters during the season.
Yes some dogs can drive you slightly mad when they run forward of the beating line But as the saying goes
'There but for the grace of God go I'
And as long as I get to work on the wonderful mixed crops that the shoot captain has put in and the dense brambles that my Mia loves, It is all worth it
I took Mia and Jay Jay and worked them as a brace through the cover crop, which we had all to ourselves.
 Watching my girls pattern out in front of me, tight, flat and finding all the game that is in there is just
THE MOST WONDERFUL FEELING'
 I so wish we had filmed it :(
Gary was beating the hedge so watched it all and he was soo proud of the girls, and it takes a lot to please Gary as he is such a perfectionist :)
He also said (as long as Mia could not see me) when he worked her on a couple of the drives, that she worked well for him, which says to me that I must get Ellie trained up for him as I can't lose my Mia to him, he he he
Jay Jay has lost her ability to stop cleanly and sharply to flush, but we will reclaim that over the summer. She has just got carried away, as all dogs who have there first full season do, in the sense that she now knows what it is all about and therefore needs reminding that we are a team at all times even when the excitement gets to her, bless her. 
Still I can't help being proud of her as she had hardly any training during the summer and then 10 weeks out before the start of the season with my knee so none then either.  So yes, whilst I know she can do a lot better, I am proud that she has coped so well when we have given her so little in training to prepare her for this past season.
We are extremely pleased of our Mia who has had no training during the run up to the shooting season with her having a litter during the summer and again MY Knee problem.
Yet she was wonderful on shoot, gives us great hope for Jay Jay as Mia went through the same stage at 2 that Jay Jay is now going through.
Mia worked hard, fast, and covered all ground well on the shoot and when asked to find game that the picker ups could not get to, our Mia came through with shinning colours, so love that girl.
 We took the girls on shoot yesterday and to add to a good day one of the puppy owners came along with their 18 month old Alfinmarsh Forrest.
He will be joining the shoot now and his wife will be joining with her cocker, which is great as it means we will have the added joy of having another Alfinmarsh on shoot.
Thoroughly enjoyed the shoot working the girls together, especially in my favourite areas which is the mixed cover crops and the dense coarse bushes.
Though what I wrote in the previous up-date, that I was worried that temptation may start to pull Jay Jay forward with so many of the other shoot dogs working forward, DID happen. My angel Jay Jay who has for a long time now hasn't been herself pulled forward whilst working and talk about deaf ear, bless her.
Most of the time though it was a Joy to work the girls.
  I worked a small mixed cover crop strip with a chap who had brought his lab on shoot for the first time, therefore was on lead. Gary was with Mia... in the woods on the side of crop.
If it had been a trial, the first half of the cover crop the judge would have said about Jay Jay 'Lovely, lovely dog' she needed no whistle worked beautifully and put a couple of birds up stopping at each one :)
Second half of the cover crop the judge would have tapped me on my shoulder and said 'sorry Miss but can you regain your dog and leave' he he he :)) Mama Mia joined me 2/3rds in and the girls worked the crop together beautifully :)) 
 All in all, mama Mia = fab :) Jay Jay = some good sections some really naughty, naughtiest she has ever been.
Leconfield Field Trial on the 9th
What a cracking bunch of people there was at the trial, Gary and I chatted, caught up and had a giggle while we waited for our run which was not for a while seeing as we were number 15th to run.
After the shoot day we knew that whilst Jay Jay looked stunning most of the time she worked, that she was/is going through a teenage stage but little did we expect her to do what she did.
As soon as we started our run Jay Jay hit onto scent, I thought 'yes' we could have a good run here, FAMOUS LAST WORDS. Within minutes she flushed a pheasant out of the brambles, sat as the gun shoot at the bird, the gun missed the bird but it flew low and landed quickly in the brambles. Jay babe, bless her presumed it had been shoot and without waiting for my command ran in to retrieve it. Yep, that was the end of the trial for us and poor Gary was in pure shock as he said 'she has never done that before'! Well she has now Gary he he he
Well, lets do a catch up before we look into what will hopefully be a cracking 2012 for us all with our families and dogs.
We went to our regular shoot on boxing day and as normal for this season Jay-Jay came with us but this time so did Mia. We felt Mia deserved to come with us as she is the one who has less walks at the moment with my knee as it is, yet not once has she been a nuisance through boredom. She has not been on shoot as we did not deem her fit enough especially as what exercise she has had has been freedom walks, no training, we need not have worried. David Lisett once said of our Mia, 'She was a dog that he could shoot over all day' and as always he was sooo right.
Gary started off working her but she is so use to me working her that I started to work the pair of them when beating through the wood. It was made easier by the fact that when in woodland Jay Jay can be trusted to keep a nice and tight pattern whilst Mia can be trusted to range,  bless her, though range maybe a slight understatement this time :)
Thankfully Mia does not range forward, she just covers more of the beat line, which to be honest I like as we have quite a few dogs on shoot that hunt forward and back rather than side to side, which means they will miss game which our girls will find. Jay-Jay found and flushed a hen bird from under a log that other dogs had just run over, though the little toe rag moved 2-3 paces on it. This forward running does mean however that a lot of the birds that Mia and Jay-Jay would come across are flushed before they even get there by other dogs.
That is something we will have to review as whilst with Mia being an experienced girl on shoot and therefore can take what must be disappointing for them, working when they know dogs are forward of them and therefore flushing birds that Jay Jay and Mia would want to,
Jay Jay is not as experienced as her mum and therefore could be tempted into running forward. She has not been tempted so far but it is very much a possibility with young dogs.
Our Little jay jay did make one mistake, an easy one for a young one, she pegged a hen bird that was so far in a dense bush that it could not move any further. Jay Jay went in to flush but upon finding it could not move brought it out to me, it was totally unharmed, though Jay Jay had more thorns and scrapes from that one bush than the whole day :) 
Mia,as always excelled in the thick cover, she will go into the most nastiest of bushes without any hesitation.  We are hoping it will rub off on Jay Jay as Jay is totally willing to go into thick cover if she can smell something in there but doesn't want to enter if there is no smell, which could be because of the barb wire injury she acquired last season. 
Mia worked particularly hard in a very nasty strip, 200ft-50ft, looking for a hen bird that a young gun had shoot and a cock bird that an older man had shot. The cock bird had the gun and picker up in disagreement as the gun said he had definitely shoot it and the picking up chap said that the gun had missed it, going onto say that he had even seen it land and happily run on. Well shoot etiquette is to never leave a bird that may be damaged, quite rightly so, therefore we felt we had to make sure the cock bird was not there meaning instead of just working 1/6 of the strip for the hen bird, Mia had to work the whole strip.  
She worked it wonderfully, knowingly covering all of the patch and of course out she popped with the hen bird but not the cock bird.
We are lucky on our shoot as guns and beaters all mix together and the Guns are a particularly nice bunch of men and women as our the beaters and pickers up. Sadly this one gun was not feeling the joy of the day, I wonder could it be because the younger boy had more than likely out shoot him and the picker up had been prove right he he he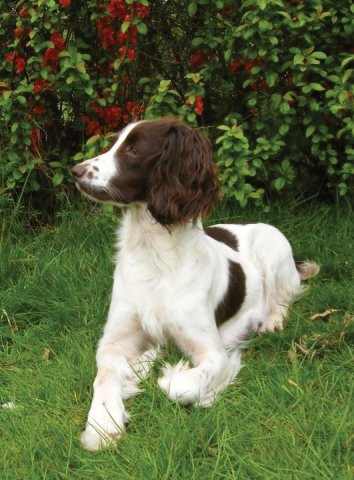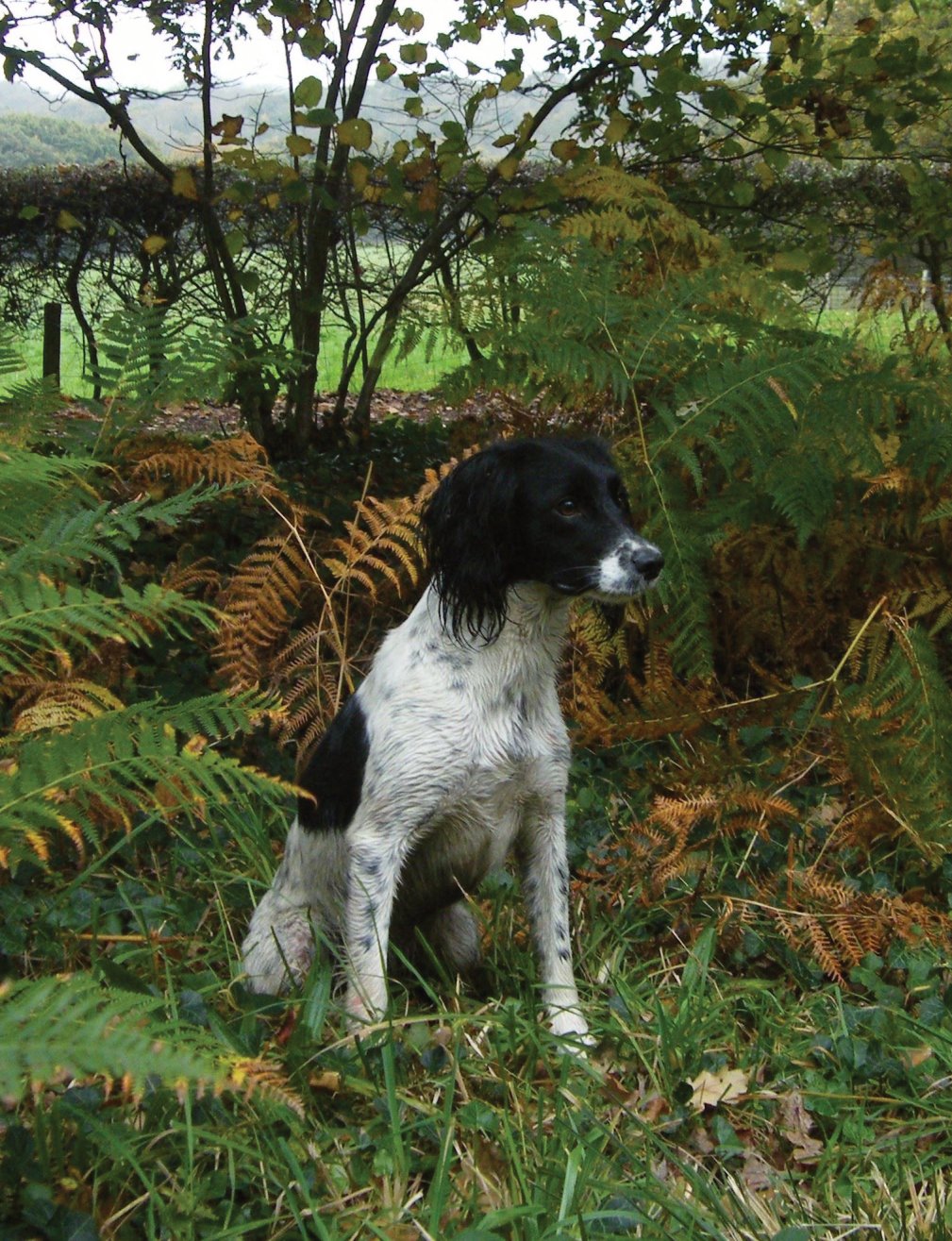 I was so pleased that Gary was there though as boy can our Mia pull on the lead when on shoot, daft thing walks nicely by my side off shoot though, he he he 
Looking Forward
Well, we have a lot to look forward to with the dogs, starting with the training of the pups when this darn knee allows it. 
We so need to get cracking on that otherwise we will just have two pet dogs in the house, which is totally fine but with so much potential I would rather i did train them especially as I know it would add to their enjoyment.
Then we will have Mia's litter to look forward too (fingers crossed), her last one ever so we may leave that until winter time, we shall see.
We will hopefully have the time this year to give our Jay Jay the experience she needs to move on in her trialling, injury to her and I getting in the way for this season. We have sadly not been lucky in the draws either for the trials, with up to 50 people entering a trial and only 16 needed, the chances of being pulled out of the hat are getting slimmer so we may not get another run this season. Fingers are crossed that we at least get to run in the London cocker trial at the end of the month as it will have many friends there of ours therefore a day we will not want to miss even if we do not get a run, though fingers crossed we will..
Finally may we take this opportunity to wish you all a wonderful and enjoyable 2012 for you and your dogs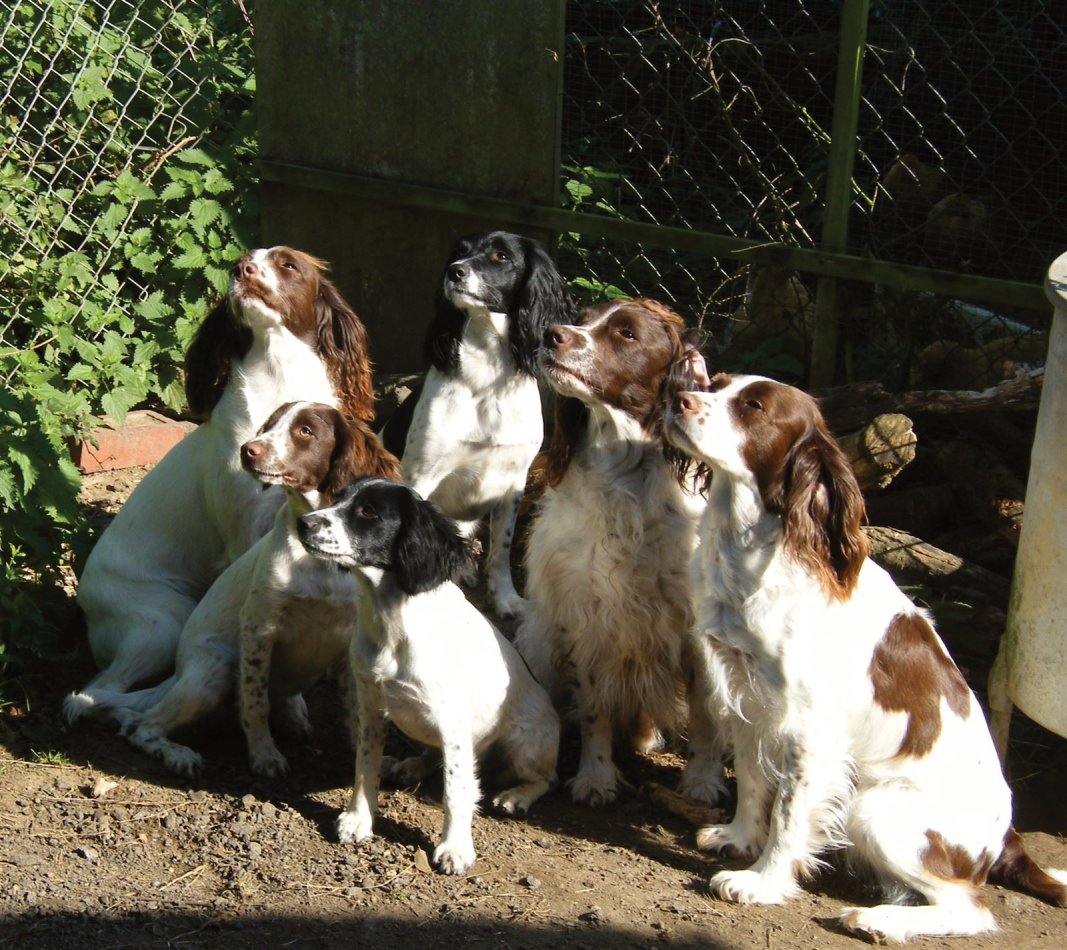 Well today  I went for a walk with Tracy, sounds such a normal thing to do but not for a women who hasn't been allowed out because of damage to a knee for such a long time apart from twice without permission :)
Tracy brought Rhett over (Bella & Alfie's son) and Bella and I headed of on a walk with them across the fields.
Poor Tracy has more than likely never walked so slow in her life before, having to keep my very slow pace and I thank her for her patience.
Bella could not control her enjoyment over being out, on her way back to us after flushing a pheasant she yapped half the way back, he he he!
I really look forward to our next walk Tracy, hopefully I'll walk faster :)
Oh and don't forget Alfinmarsh owners, the dogs and I (depending on the knee) are up for a walkes with any of the Alfinmarsh gang :))
With Jay Jay and the pups safely in the Landi we headed of to Hamptworth Estate, Gary chuckling to himself over the way I had got into the passenger side with my damaged knee, all go ahhhhhhhhh for me :)) 
Pups are excellent in the Landi but they really do need more socialisation as they just aren't getting any, that is apart from when we go to a shoot/estate and then they come with us, to run around for 5-10 mins before settling in to wait for us to finish
Jay-Jay's lesson/work.
On the way down to Hampshire it absolutely hammered it down but whilst at Hamptworth the sun shone and we stayed dry, Perfect.
We drove to a different part of the Estate that we had never been to before and poor Gary nearly cried as his Landi got rotten when he had to drive it through great big wheel ruts filled with lovely dirty water :))
I was to busy watching pheasants to care, up to the hundred in numbers running in front of us or darting off to the sides. All I was thinking was yeah she will get a flush today and she did, not many flushes as they run tantalising in front of us just a few paces in high numbers, keeping the same distance at all times.
Jay Jay kept her calm throughout when quartering in front , even when I walked fast to try and catch up with the birds Jay Jay worked hard and fast in front of me without need of whistle using her nose and keeping tight working side to side :)
More experience needed for Jay Jay and myself, and Nick thinks Jay Jay has yet another gear/level in her that she will hit when all of it comes together for her. This Nick says will be when she has more experience of hunting and watching what she flushes fly away to be shot and for her to then retrieve said bird to my hand. She can do all of this but it needs to all come together for her now. The thought of another gear/level is exciting and scary as I am fully aware my girls are at a higher level than I and that only by their grace do we pull it all together, as Mia has proved on the shoots in previous years and now Jay Jay.
Nick also said that 'I should be really pleased with Jay Jay', 
and I am, bless her!
Below is a clip of Tinks this morning doing her first retrieve of cold game and what a sweetie she was at it :))
 Not something I will do often with her, more than likely won't do it again with her until next spring, but what a sweetpea.
 Master told me off as he saw the pain in my face when getting up but I soooo want to get on with training the pups and I just haven't been able to :(
/