Shopping Cart
Your Cart is Empty
There was an error with PayPal
Click here to try again
Thank you for your business!
You should be receiving an order confirmation from Paypal shortly.
Exit Shopping Cart
Training and everyday events.
I am forever on a learning curve and with a visit to Nick last week and a visit to Chris this week, both times to use their rabbit pens, I once again learnt new things and even a new term and Jay Jay got the practise she needs on game.
It has been difficult to find the time to get to either Chris or Nick's places, we haven' been to Nicks since before January, though we did manage to get up to Chris last month.
With the hope/plan being that we give Jay Jay plenty of game experience this summer before we campaign her in this coming Field trial season, I really hope that the gap is not so long before we get back to them as with life getting in the way, the possibility of getting enough time is very slim.
Hardly any video footage at Nicks pen as the camera card came up 'Full' not long after we started the session. It was the first time we had been in this pen, Nick built it last year I believe but of course when we go there during the winter we work outside the pens.
Both trainers are excellent and I would strongly recommend either one of them.
Tinks & Ellie, whilst still not getting enough input from us, are still our super gorgeous wild babies who with the little training they are getting, are doing well.
Plus joy of joys, today was the first day I was able to take Mia out, who has finally finished her season.  I am so pleased we made the choice not to breed from Mia this summer as my cherished memories from last season was working Mia and Jay Jay as a brace, she was fabulous on hardly any training so this year I want her fit enough to do the whole season with us, she loves it and we love having her there.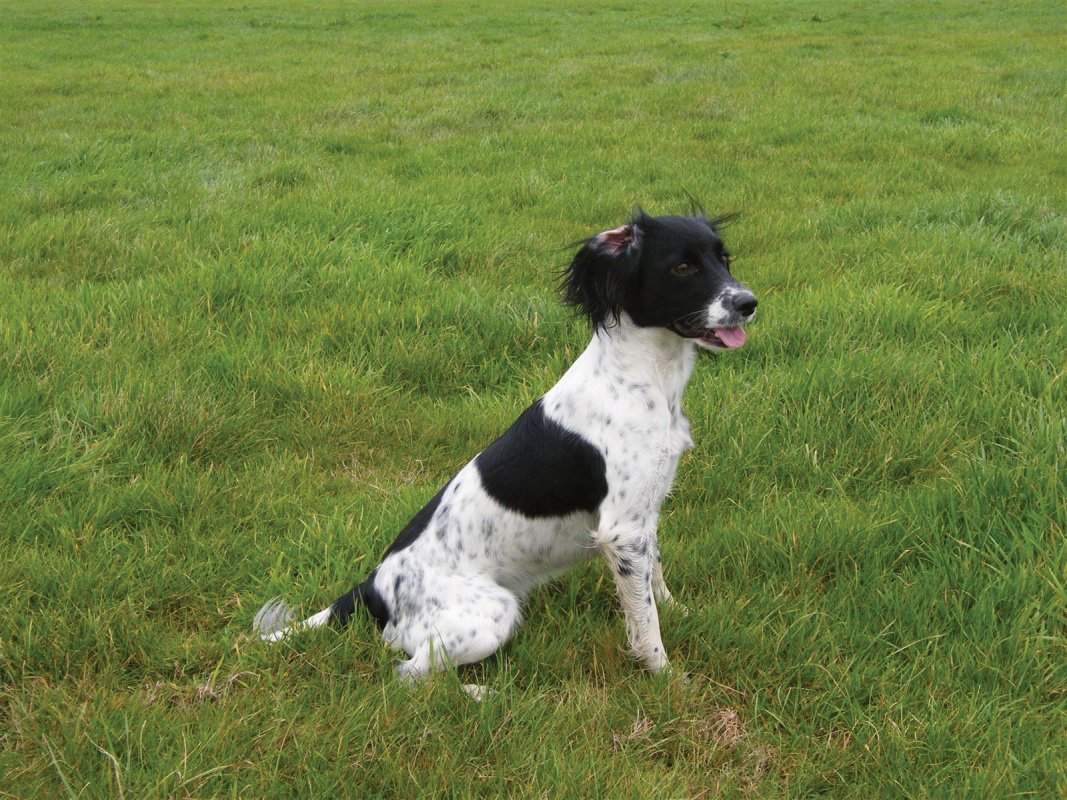 Headed of to Hamptworth on friday the 4th for a session with Nick Gregory,  and as always we had a cracking session, Nick being a saint.
The four hour round trip to Hamptwoth to spend time with Nick was so worth while + the knee whilst feeling weak and abused held up, though it is really upset now :(
He said during the lesson that Jay jay patterns out really well and is very good at marking.
I was especially pleased with her because of the time off she has had. She now has it all there and if she makes a mistake it's because I have done something wrong.
That was something Nick said, and he is quite right. 
Bless her heart she does us proud.
I was hoping this week to be training Jay Jay everyday but at the moment I seem to only be able to work Jay jay every other day, if I am lucky, because of the knee.
I have managed to trainning Tinks a few times as well over the past week, just little sessions, not enough though.
Tinks and Ellie can be the 'WILD CHILD'S' at the Christmas Gathering :) Which we are really looking forward to seeing so many of you again :)
Really annoying that I cannot give all the dogs a training session everyday, especially as I hoped by now that I would be able to do so, but I'm pushing the knee as it is so I will just have to do what I can.
With Jay Jay and the pups safely in the Landi we headed of to Hamptworth Estate, Gary chuckling to himself over the way I had got into the passenger side with my damaged knee, all go ahhhhhhhhh for me :)) 
Pups are excellent in the Landi but they really do need more socialisation as they just aren't getting any, that is apart from when we go to a shoot/estate and then they come with us, to run around for 5-10 mins before settling in to wait for us to finish
Jay-Jay's lesson/work.
On the way down to Hampshire it absolutely hammered it down but whilst at Hamptworth the sun shone and we stayed dry, Perfect.
We drove to a different part of the Estate that we had never been to before and poor Gary nearly cried as his Landi got rotten when he had to drive it through great big wheel ruts filled with lovely dirty water :))
I was to busy watching pheasants to care, up to the hundred in numbers running in front of us or darting off to the sides. All I was thinking was yeah she will get a flush today and she did, not many flushes as they run tantalising in front of us just a few paces in high numbers, keeping the same distance at all times.
Jay Jay kept her calm throughout when quartering in front , even when I walked fast to try and catch up with the birds Jay Jay worked hard and fast in front of me without need of whistle using her nose and keeping tight working side to side :)
More experience needed for Jay Jay and myself, and Nick thinks Jay Jay has yet another gear/level in her that she will hit when all of it comes together for her. This Nick says will be when she has more experience of hunting and watching what she flushes fly away to be shot and for her to then retrieve said bird to my hand. She can do all of this but it needs to all come together for her now. The thought of another gear/level is exciting and scary as I am fully aware my girls are at a higher level than I and that only by their grace do we pull it all together, as Mia has proved on the shoots in previous years and now Jay Jay.
Nick also said that 'I should be really pleased with Jay Jay', 
and I am, bless her!
Below is a clip of Tinks this morning doing her first retrieve of cold game and what a sweetie she was at it :))
 Not something I will do often with her, more than likely won't do it again with her until next spring, but what a sweetpea.
 Master told me off as he saw the pain in my face when getting up but I soooo want to get on with training the pups and I just haven't been able to :(


Poor dogs have been in for over a week now as this silly person fell down the stairs hurting her knee and ankle.
Hospital banned me from walking but I have escaped once with Jay Jay to Chris's shoot and will escape tomorrow but this time it will be to Nick at Hamptworth Estate :)
I shall strap myself up and pile the pain killers into me to keep me walking :))
I have also done a few retrieves with Tinks on 3 occasions, though I had to stand up when doing these retrieves so I didn't push my luck :))
I used a half pound rabbit dummy which she took too straight away :))
Bella & Mia are in season so poor Alfie is in the kennel, well I should say in the cabin
as he spends most of his time in there bless him.
He comes into the house at night but he is to clever to come into the house during the day as he has been known to open the baby gates & doors
to get his wicked way with the girls he he he 
It was so good to be back at Hamptworth and something that our sweet Jay Jay needs as she has been away since the 2nd of May and the time before that was in march.
She truly is a gem to be such a sweetie and yet not have the luxury of working on game often, hardly at all with the trips to Hamptworth being the only times she has actually come into contact with game this year.
In the clip Jay Jay needed a stern 'sit' to hold her in place as she can in excitement (not a lot but on a occasions) stop to flush and then come back to me instead of holding her place. This is aided by my excitement over the flush, I'm still like a child full of excitement when the girls are working in front of me.  But, I as a handler do things wrong as well, so we forgive each other.
We are going to try are hardest to give her the winter she should have had last year and to give her as much experience as possible.
Nick is a dream trainer who knows me to well :) I still need to improve greatly, as you can see from the clips but Jay Jay and I are not doing so bad for and just need more confidence and experience.
They were plenty of game in front, giving her some nice flushes, which must lift her spirits to know there is actually something out there as when we work in our fields it's just rabbits that see us coming a mile off because it is mainly sheep fields.
After dogging Nick set up four retrieves as we walked back to the cars, she retrieved all four, blissfully, which  pleased me as she can get bored with dummies after the real thing.
Nick meet Tinks and Ellie as we had took them along for the experience of the car journey(four hour round trip) different areas and meeting different people. They got the all clear from him, which pleased us greatly as did the fact that Jay Jay allowed Ellie and Tinks to share the cage on the journey, with no problems :))
We feel blessed to have Ellie and Tinks, such different personalities and both pups are a total joy, most of the time, he he he !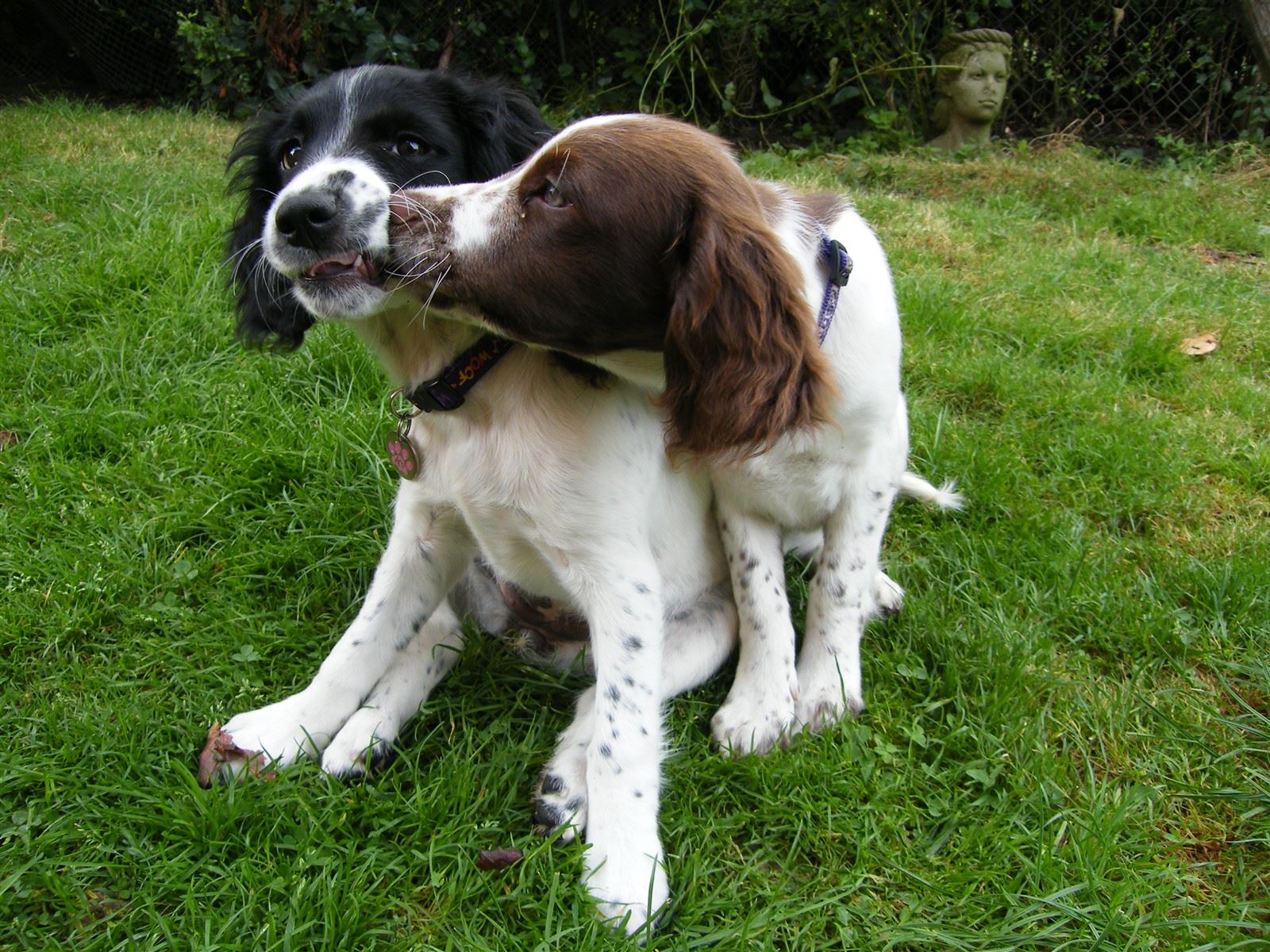 /