Shopping Cart
Your Cart is Empty
There was an error with PayPal
Click here to try again
Thank you for your business!
You should be receiving an order confirmation from Paypal shortly.
Exit Shopping Cart
Training and everyday events.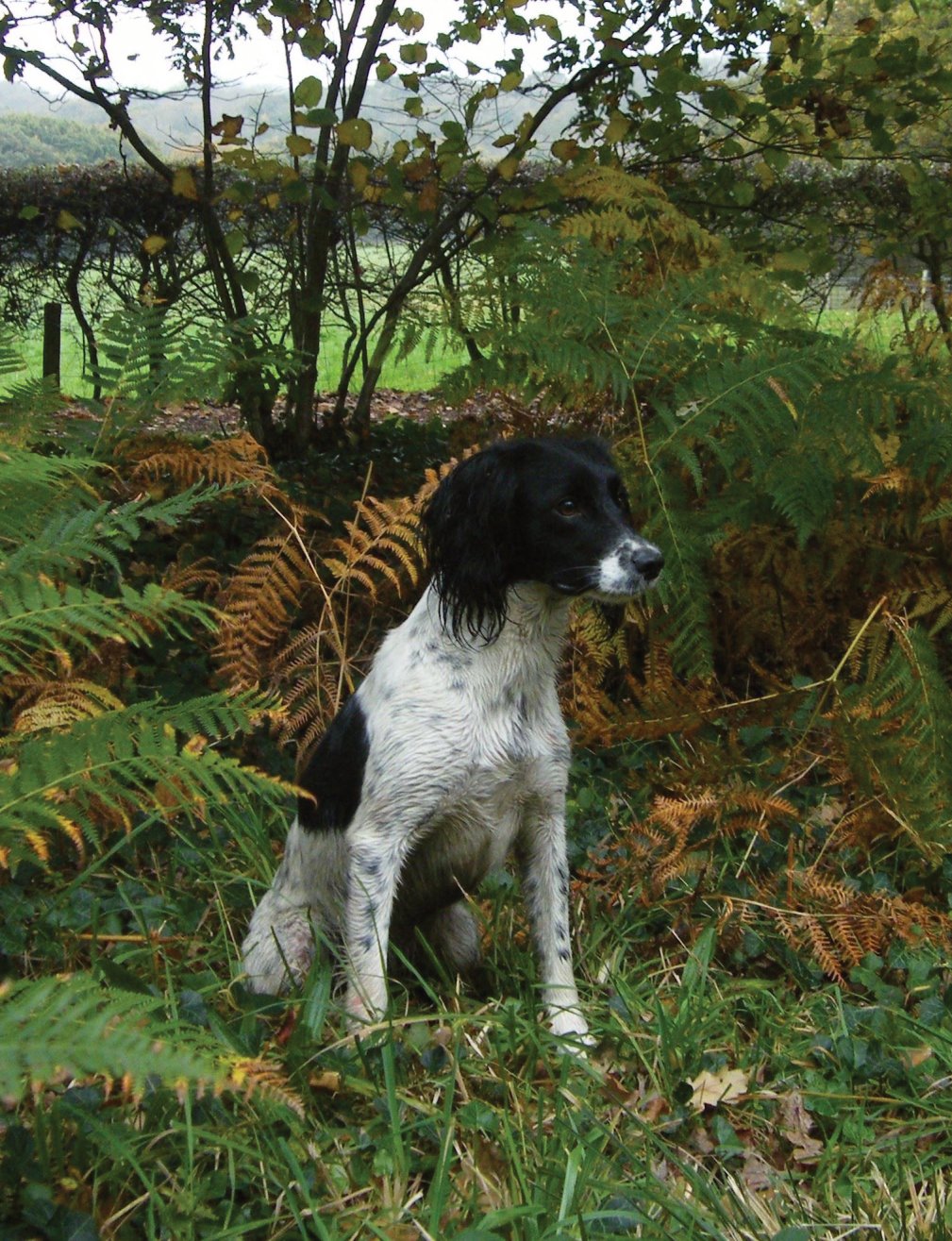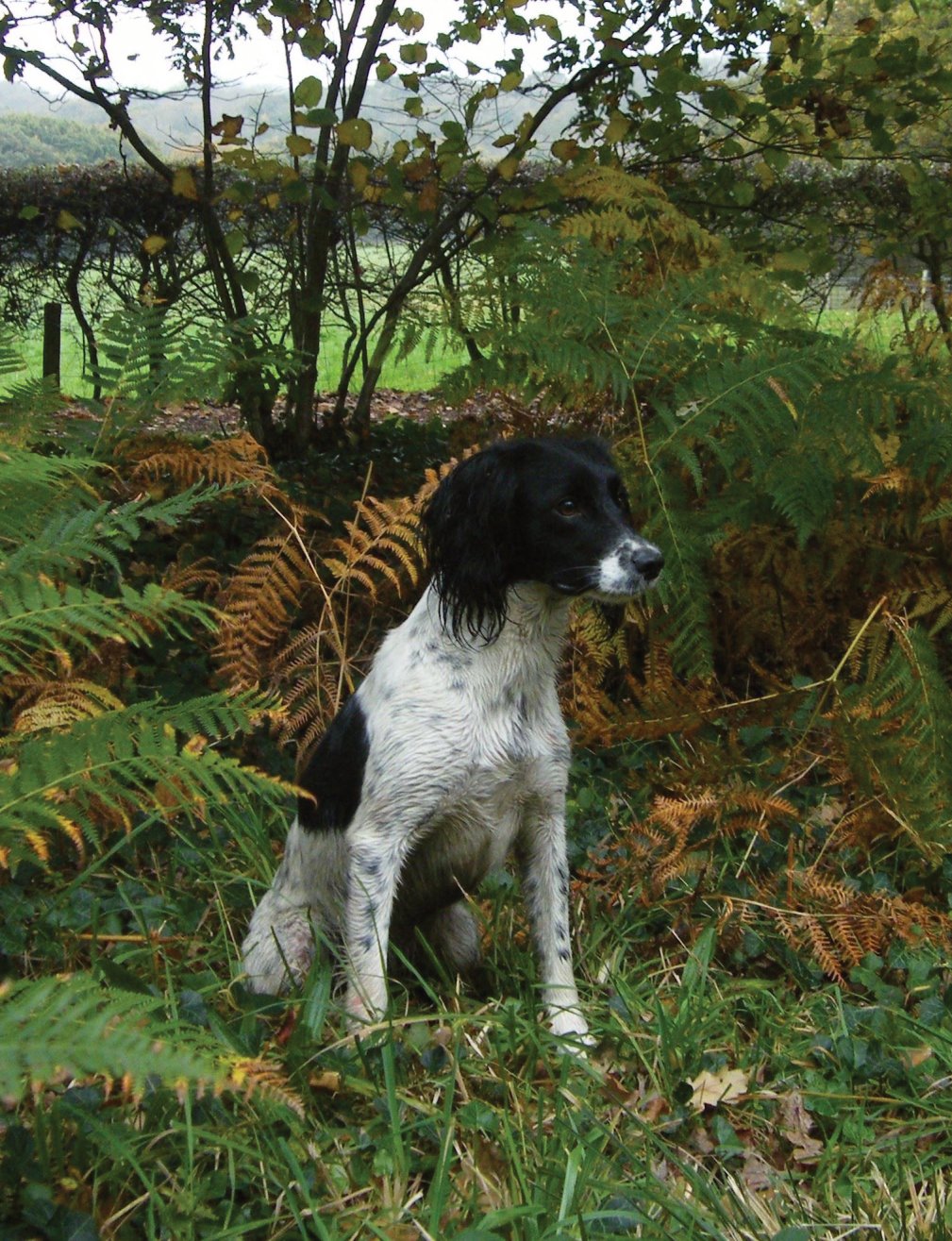 Well we headed off to Dorset at 6'00, Tinky and Ellie in the back with big sister Jay Jay as we couldn't leave them home all day.
We arrived on time so was able to get the pups and Jay Jay out for a quick toilet and stretch before the field secretary called us together to brief us all and introduce the land owners, judges and guns.
We was number one on the cards  so after a walk up to mixed crop field, we were off and running .
It was a dense crop but she worked it well, though who forgot to put on her waterproofs and who is so short that she got saturated up to the knees? you guessed it, it was I.
She did a Meerkat impression to mark the fall of the bird and marked it well, straight there even though the dense of the crop meant we could not see her or it. With first run done I was a happy relaxed bunnie
Second run was in the woods and sadly I got a bare patch of wood that didn't hold anything and a short run as time was moving fast on the day. Did however get to retrieve a bird on the other runs side.
She took a wonderful line and was working towards it when a misunderstanding between the judge and gun meant she was stopped, once they had sorted things out I was able to send her and the sweetie that she is was not put off by all the misunderstanding, took the line and went straight there.
Our first trial was done and we were all happy.
Jay Jay got awarded a Merit and the guns who get to award a dog they think to be the best dog of the trial, told me afterward that they had placed Jay Jay in 2nd place. I was very pleased :)
She has only had one weeks worth of training in 9 weeks, what a little gem.
One of the professional guys came up to us and said 'well done', left me like a grinning idiot. Also told by one of the professional that the trial would be the hardest novice trial we would ever do, that trial being particular hard work for all the dogs. 
I think apart from myself and one other person, the other competitors were all known and very well known trialers, but we were certainly put at ease by them.
We meet some cracking people and that was our second time we had meet with the Dorset Working spaniel club and both times I was made to feel relaxed.
Cannot thank the club, Judges, guns and Landowners enough for giving us such a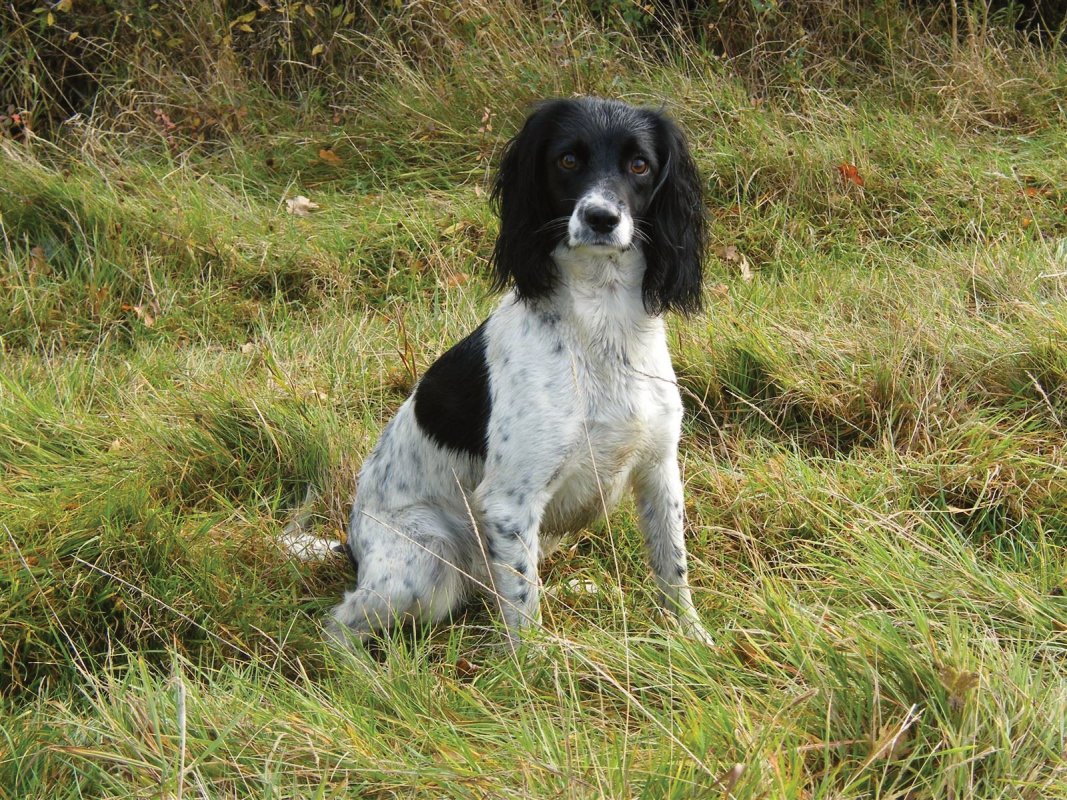 I really didn't think we would make the first day of the season for our shoot, but we did, thanks to our excellent shoot captain who allowed me to change sides and go with the pickers up.
There was no way that my knee would have coped on the beating line and as it turned out I was not the only one injured. One of the main Pickers-up had damaged there knee, so was unable to make it and another one was down with 'man flu'. In fact there was injuries everywhere, dogs and humans.
Next time I do picking up, there will be a picture of me with  pad & pen in hand marking the birds down as they fall, he he he :)
My hat goes off to the regular Pickers-up' :)
I was marking the birds falling on one drive when two of the beating dogs broke out from the crop field and started pinching the fallen, one dog picking up a bird but then only to place it back down on the ground. That was it, my tiny little brain could not keep track of the positions of the birds being moved, the ones being pinched and still keep an eye on the ones still falling.
Jay-Jay was shaking like a leaf throughout but was totally silent and didn't move an inch from her spot,  bless her heart. After 7 weeks of her being stuck in with me I was really pleased that even though her excitement level was hitting the roof (hence the shaking) and her being a beating dog therefore use to retrieving the fallen as soon as it has been shoot, managed to totally keep her composure waiting till the end of the drive.
I cannot tell of any amazing retrieves after runners etc as there wasn't any, most birds fallen at the guns feet, one shot bird nearly knocking the gun out, he he he.
There was only two runners that I know of, both unseen by us. We helped look for one with a chap and his pointer, who found the bird, which was lovely as we had just arrived in time see the point which the dog held wonderfully :))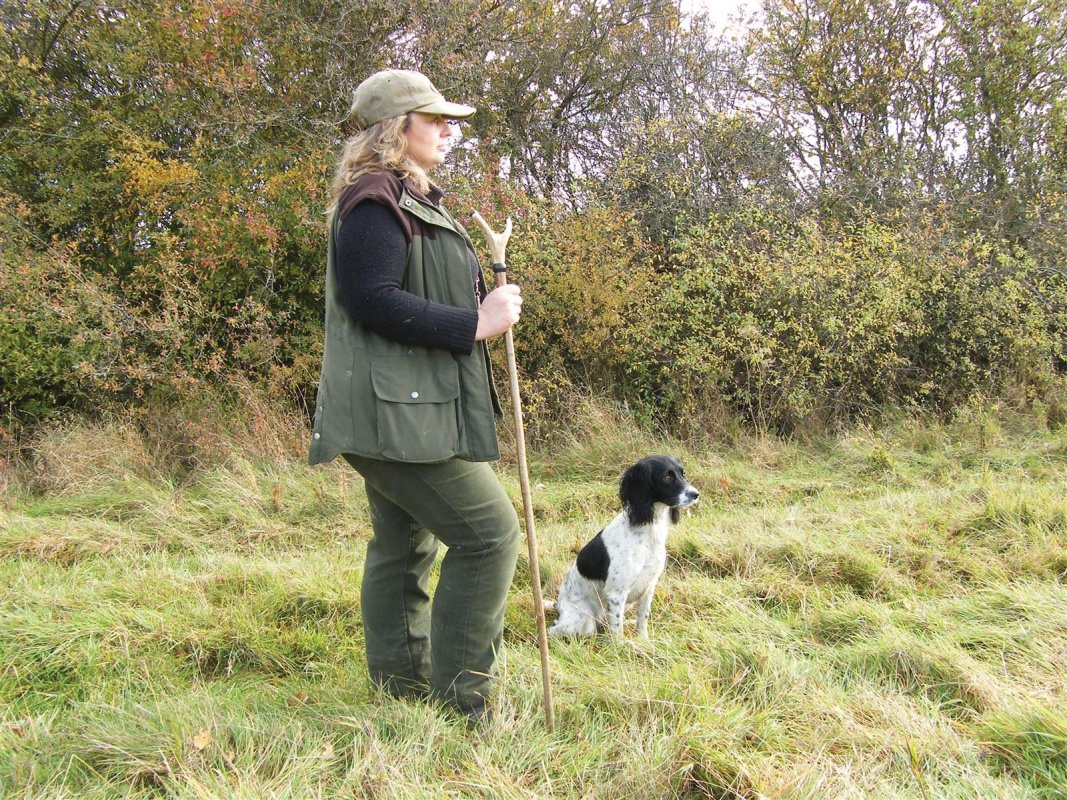 After four drives though the knee was objecting, as you can tell from my face in the photo, so sadly it was time to go home :(
BUT we had managed to make the first shoot day and the knee had survived, so what more could I ask for :)
Many thanks goes to Gary as well for coming along and helping this poor old girl make it through the drives :)
It is soooo good to be back training the girls, and a total joy to have the puppies in the house, Both of them :) But I am now realizing how Unfit we all are including myself. Thankfully because we are only booked for the Pheasant season, we have a bit more time to remedy that, Phew!
Jay jay doing a seen, memory and blind this afternoon, shattered bless her
I had Jay jay out in the fields early this morning and her heart was lifted to see so many rabbits, mine was lifted to see her work, I love watching that girl hunt. Unfortunately the rabbits saw us, so no flushes to be had but it did leave plenty of scent to work on.
It did mean however that when Jay jay had her dummy training this afternoon she was shattered and not her sharp fast self, so we ended the session on a good note and quit before it all went wrong.
Mia is being a darling, remembering all she has been taught but with that cheeky attitude they get with experience :)
I sent her out for a 200ft seen that went over a brow in the field, therefore I lost sight of her as she moved towards the dummy, but Gary could see her. Afterward he told me that she had picked the dummy up but then proceed to check out nearby rabbit holes (never letting go of the dummy) before heading back over the brow as if butter would not melt in the mouth, and as cool as a cumber :))
Mama Mia doing a seen and memory last night
The pups are growing by the day and now have a 10 minute walk through the fields every evening with us.
Both have their own characters coming through with Ellie being the one who loves people, to the extent that when her sister is off in la la land, Ellie will happily stay with us.
Tinks on the other hand is a pure 'moth hunter' at heart and couldn't careless where we are :) But she is cracking at her retrieves, something we do only every other day with the girls at the moment throwing 3-4 balls each time.
We always make them sit for the meals, so four times a day they sit-up and beg :) Though we only give them 20grams of their dry for their last meal which is Arden Grange and they really love it.
They spent most of the today playing out the back with the adults watching them, and I bet the adults were thinking to themselves 'where do those pups get their energy from?' :)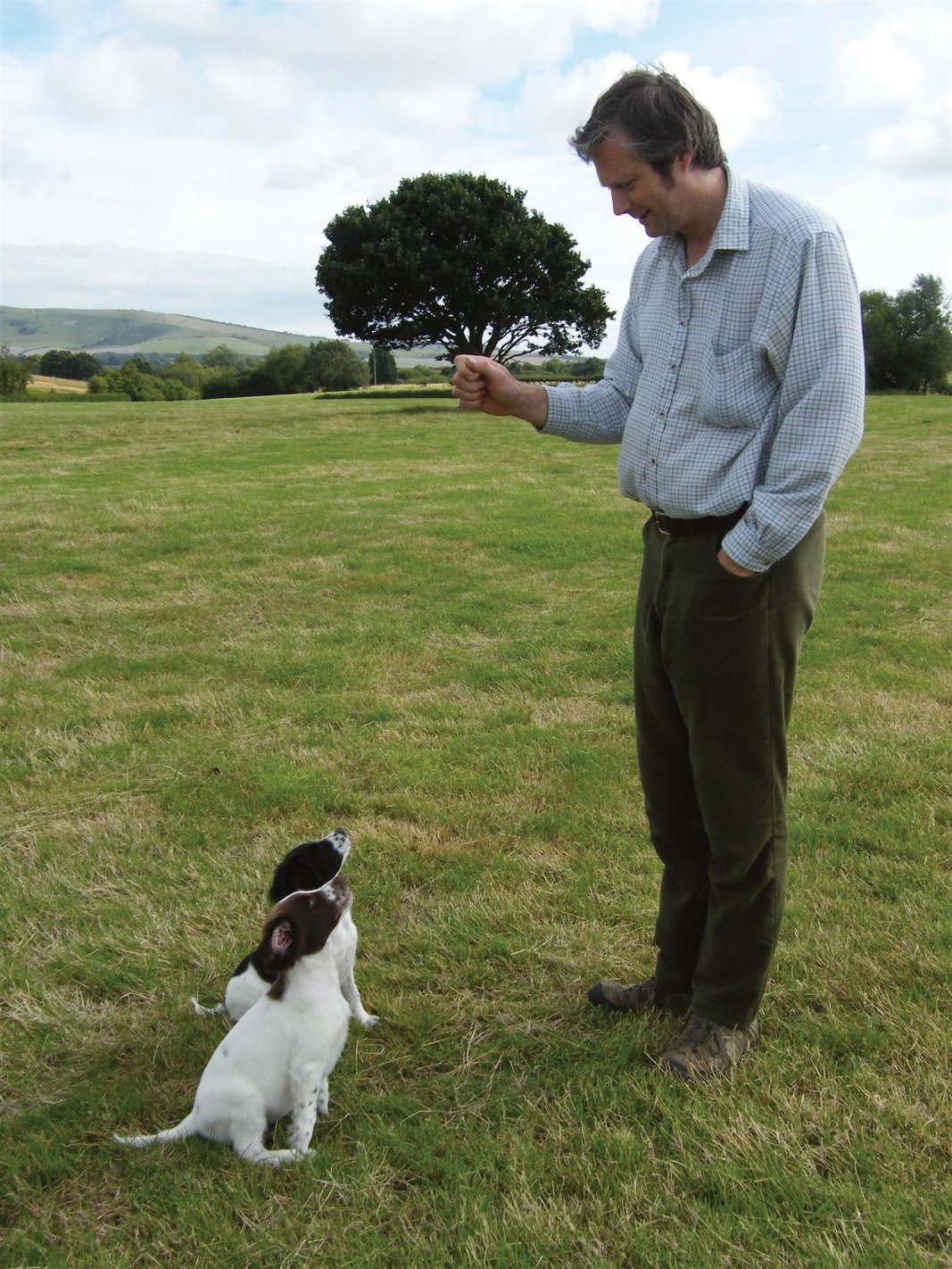 /