Shopping Cart
Your Cart is Empty
There was an error with PayPal
Click here to try again
Thank you for your business!
You should be receiving an order confirmation from Paypal shortly.
Exit Shopping Cart
Training and everyday events.
It is soooo good to be back training the girls, and a total joy to have the puppies in the house, Both of them :) But I am now realizing how Unfit we all are including myself. Thankfully because we are only booked for the Pheasant season, we have a bit more time to remedy that, Phew!
Jay jay doing a seen, memory and blind this afternoon, shattered bless her
I had Jay jay out in the fields early this morning and her heart was lifted to see so many rabbits, mine was lifted to see her work, I love watching that girl hunt. Unfortunately the rabbits saw us, so no flushes to be had but it did leave plenty of scent to work on.
It did mean however that when Jay jay had her dummy training this afternoon she was shattered and not her sharp fast self, so we ended the session on a good note and quit before it all went wrong.
Mia is being a darling, remembering all she has been taught but with that cheeky attitude they get with experience :)
I sent her out for a 200ft seen that went over a brow in the field, therefore I lost sight of her as she moved towards the dummy, but Gary could see her. Afterward he told me that she had picked the dummy up but then proceed to check out nearby rabbit holes (never letting go of the dummy) before heading back over the brow as if butter would not melt in the mouth, and as cool as a cumber :))
Mama Mia doing a seen and memory last night
The pups are growing by the day and now have a 10 minute walk through the fields every evening with us.
Both have their own characters coming through with Ellie being the one who loves people, to the extent that when her sister is off in la la land, Ellie will happily stay with us.
Tinks on the other hand is a pure 'moth hunter' at heart and couldn't careless where we are :) But she is cracking at her retrieves, something we do only every other day with the girls at the moment throwing 3-4 balls each time.
We always make them sit for the meals, so four times a day they sit-up and beg :) Though we only give them 20grams of their dry for their last meal which is Arden Grange and they really love it.
They spent most of the today playing out the back with the adults watching them, and I bet the adults were thinking to themselves 'where do those pups get their energy from?' :)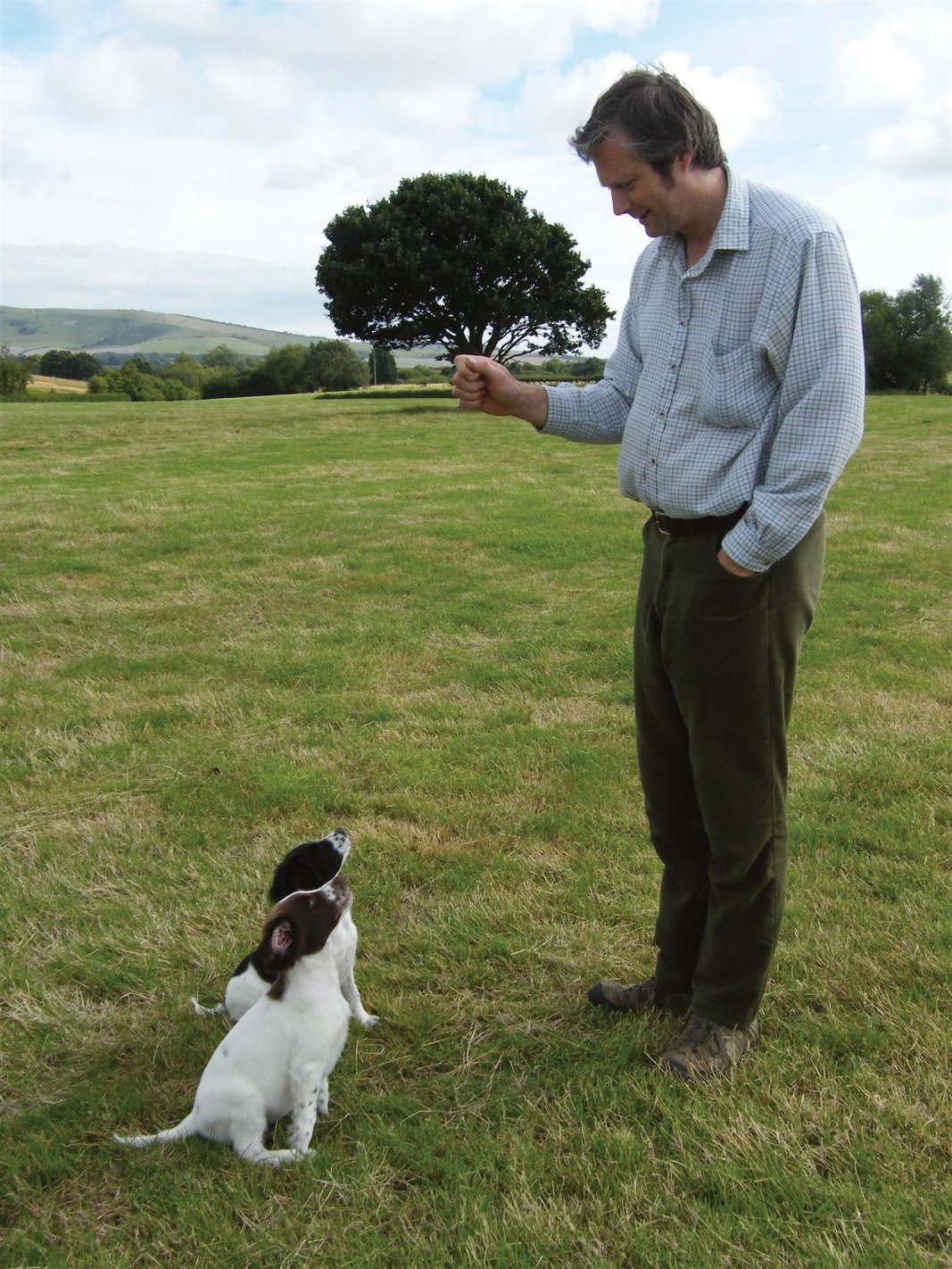 This is the time of year when people will be sending their dogs off to be trained up by the professionals, if they haven't done so already, for the start of the shooting season. They do this mainly to resolve issues they have not been able to put right and/or to give their dogs plenty of opportunity to be shoot over as here in south
 we do not have the ground or abundance of rabbits that are up north.
I'm meaner to the professionals I know as they have to put up with me :) For while boarding your dogs with a professional, to then get it back now doing all that you ask off it is great for some, for us it would not be so. Jay Jay is our sweetheart and we could never send her away. Plus I feel, for me, the joy is in the partnership I have with our dogs and the achievements we make together
So to hand her over to a professionals would be like cheating on a test and us.
So after our session yesterday with Jay Jay in the field to see what she was like after her few weeks off, we formed a plan of action for her. ....
....The main one being that we will hopefully give her the shooting season she was meant to have last year. A full shooting season (fingers crossed) will give Jay Jay the experience she needs and has yet had because of the barb wire incident she had not long into last year shooting season.We are also going to do some days with a group of people on a friends farm, more in a trialling style than shooting on those days, which will be great and something we will look forward to as the person who owns the place is a wonderful host and friend, plus Gary gets to shoot, bliss.
These days will be a total gem for Jay Jay and I as with me not being a driver the opportunity for Jay Jay to be shoot over are not enough.
We are also hoping to do a fortnightly training session with other people we know, one being an excellent trainer and another being a fab cake maker :)
Then in February we will round it off with a trip up to David Lisett, date yet to be confirmed but Davey has promised to fit us in for our two days with him in Feb, and I will hold it him to it :) DL's input will be much wanted as the pups will be the right age for assessing, and gaining his opinion on what to do with them will be invaluable 
So with all that planned I had better get her training underway which will be reviewing the basics and building her confidence, getting her in a calmer state of mind as she is always waiting with heighten anticipation of what is next to come, so much so her brain can't take in the information I'm giving her because she is 6 paces ahead in her mind :) 
My task to aid all this,
To get fit, enjoy and to not Panic, 'Don't Panic' he he he
Another, Puppy filled week, my poor adults will heave a sigh of relief when I once again start training them and get them fit for the shooting season, and myself.
It is not long at all before the start of it and Mia wants getting back into shape and a refresher whilst Jay Jay needs more work to get her back to where she was and then to gain her total trust. I want from Jay Jay the same look I get from her mother when Mia and I are on shoot together, she looks up straight into my eyes with total trust that I will tell her what to do next and that what I tell her will be right. She then with total trust goes off and performs the task, all the time having the experience and confidence to use her initiative when correctly needed. 
But if I don't get Mia's refresher course up and running, who knows what she will do on shoot, bless her :)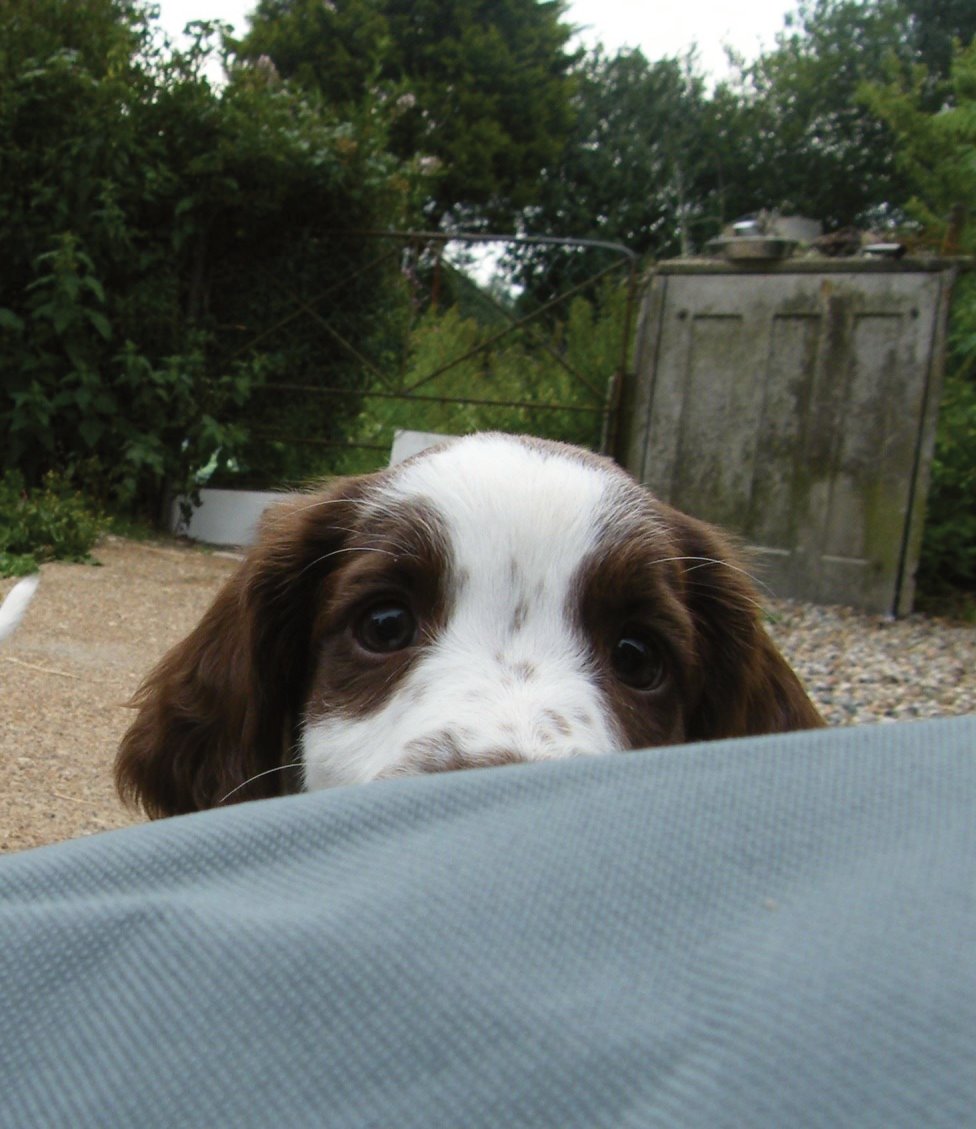 Alfinmarsh Rosie Choice
Dropped two of the puppies off to their new homes yesterday, yes there was tears after we dropped the first one off, Lizzy, but not after the second was dropped off :) The key to me not sobbing, is to take another puppy along so I can get a cuddle on the way back from the spare he he he!
We have learnt over the years, with the families that have young children it is best, for their sake, if when we drop the puppies off we do not stay too long as they need to settle the children in with the new pup without us their. But if there are no young children about, as there was not in the second home, we can stay  for longer to watch the pup playing with the spare and them getting use to new grounds, then we just disappear.
Boo Hoo Waillll :)
The wonderful Vicki has been across twice this week, so on monday we took Vicki's JJ and our Bella & Alfie (JJ grandparents) out, and then on thursday I took Mia (JJ's mum) out with him and Vicki and as always a great time was had by all the dogs.
Nicky also came over with her daughter Hannah to have a play with the pups and a play with her her cam corder, she took some wonderful clips of the puppies. Nicky took some at normal speed and others in slow motion, really great montage.
/