Shopping Cart
Your Cart is Empty
There was an error with PayPal
Click here to try again
Thank you for your business!
You should be receiving an order confirmation from Paypal shortly.
Exit Shopping Cart
Training and everyday events.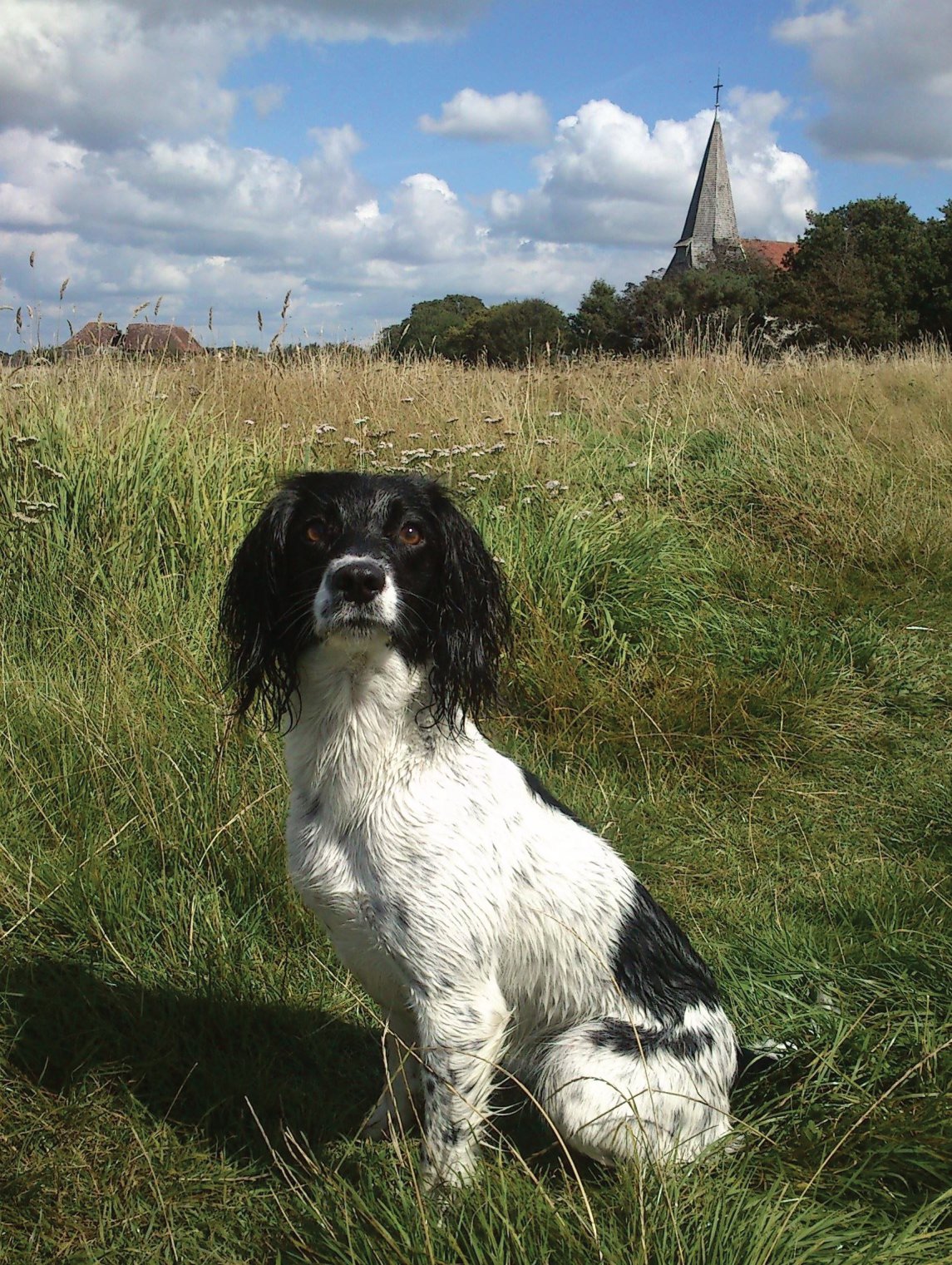 The 'Ouch' is from two injections I had into the right foot to help with the aches and pains that come from inheriting flat and ten-to-two feet from my father, fingers crossed the steroids will work!
Yep, we popped along to the cuckmere river once again as 'hop-along' (me ) isn't allowed to walk to far at the moment, so an ideal place to work Jay Jay physically, helping to get her fit without having to walk to far for me. Though we cannot take her again tomorrow as boredom will set in.
Anyway, she was a little gem again.
After a warm up we threw the dummy over to the otherside of the cuckmere, Jay Jay went in, swam over, clambered up the 4ft flat banking helped by the reed bed etc, retrieved the dummy and jumped straight off the banking into the water. Everytime she does this she completely disappears under the water because the drop is so high, bless her.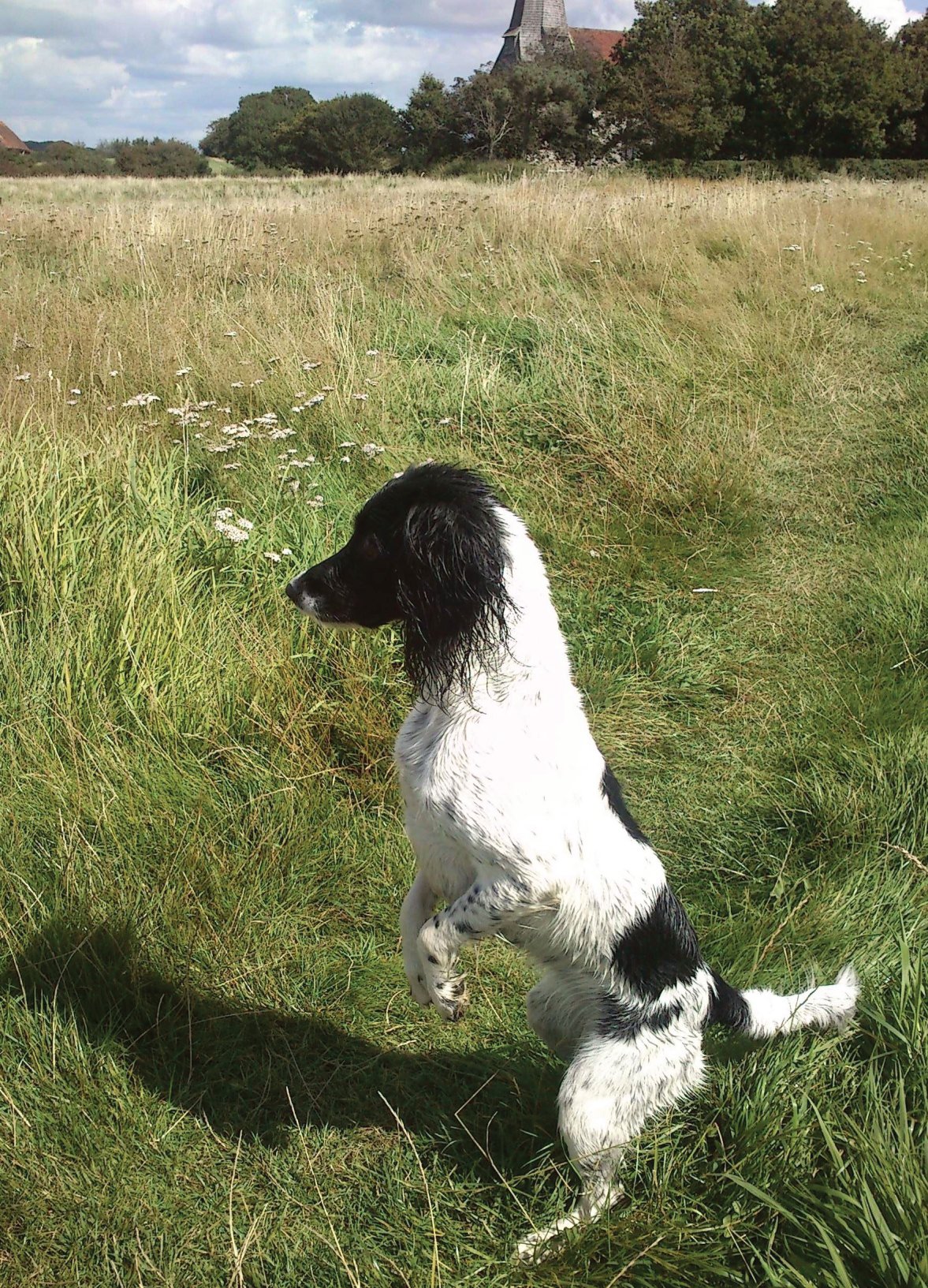 Then Jay Jay and I walked down the river bank path whilst Gary laid a blind for me over the otherside of the bank. I sent her back, stopped her and asked for an out with my left hand, she went out as requested and jumped into the water swimming across to the otherside, got onto the bank and retrieved the dummy. We were very pleased with her, especially as dotted along the river path are bushes, one huge bush blocks my view after she has taken the out command which means I cannot help her after that point if she goes wrong, which she didn't.
We repeated this exercise once again, Gary putting the blind out whilst I walked away, except this time we did it in an area that had no visible pathway into the water for her and it was also a spot where she had never retrieved from before, but this time Gary placed the dummy in the water halfway across, success always being the main aim.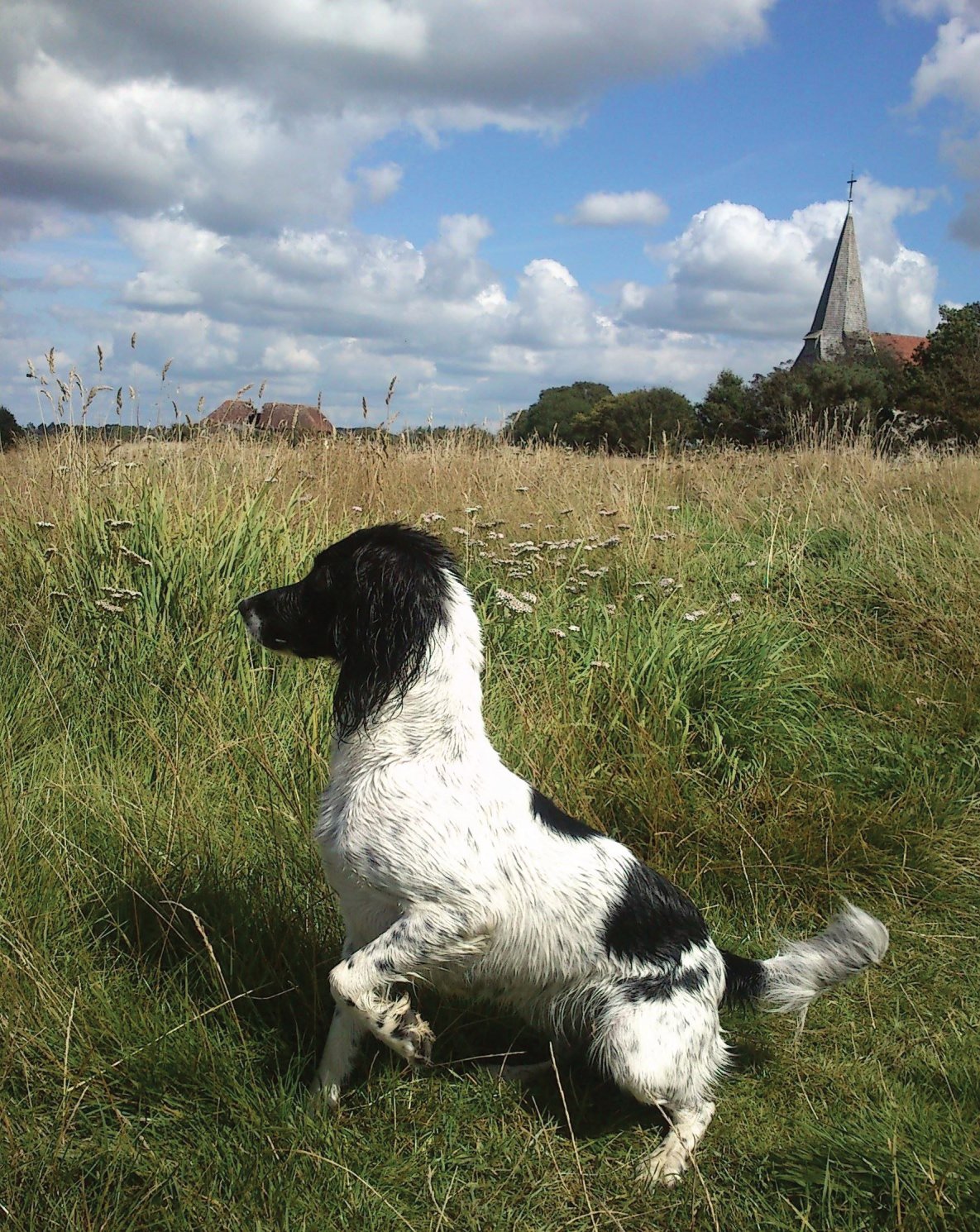 Then we upped the ante one more time by placing the dummy into the water but on the side that we were on. You may think this to be the easier retrieve seeing as the dummy is closer but not at all, this is a tricky one as the dog does not expect the dummy to be there and the dummy is harder to see as it is hugging the bank.
I sent her back down the path asking for a stop and then asking for an out, and then as soon as I heard a splash (bushes still blocking my view) I gave her the command steady. Gary said she started to look for the dummy but could not see it as the currant had taken it away from its original spot, so Jay babe got out of the water run down the river tight to the waterline, got a whiff of the dummy and jumped in and retrieved it.
I am certainly happy the girl used her common sense when she couldn't find the dummy and couldn't see me, she is a little gem, says a very biased owner :)
We finished with a nice easy simple retrieve and came home very happy with her and I was not to wet for a change.
Must be two years or more, since David Lisett told us about the work he was doing to put together a product that he could feed his dogs and more,
and we knew the product he produced would be something special.
Now we have had our first bags of the food delivered from Chapel Farm, we chose Performance 24+ and I am confident the results will be good and at such a reasonable price my purse will be very happy
All the dogs have either been to the Cuckmere or the lake at least once this week and thoroughly enjoyed themselves and learnt, and we too have loved it. We chuckle at Tinks little tippy toe into the cuckmere, she is sooo gentle in her entrance into the water, whereas Ellie is like the rest of the gang and just takes an almighty leap into the river.
Jay Jays' work in the water is beautiful to watch, she goes such distances in the water and takes commands/directions that astound me. Though she does it for us, so if we bore her with water work she will pull up the drawbridge,
bless her heart. My fault as I enjoy watching her water work so much I can get carried away.
Having her mum, Mia, there as well, working the girls as a brace is yet another joy I could get carried away with.
We do feel truly blessed with our dogs.
I have also had the pleasure of two Alfinmarsh owners coming for a walk this week, Tracy with Rhett on tuesday and then Vicki with JJ on friday. 
It is such a pleasure to have the company of those two women and always a joy to see an Alfinmarsh pup come back for a walk.
Jay Jay at the same spot but on a different day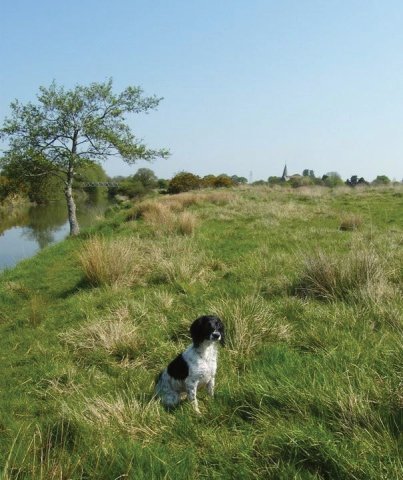 It was another beautiful sunny day yesterday and therefore the river called as did Nicky with her Honey, so off we both went.
I took Jay Jay and it is a joy to see her running true again, though there is still a little bit of doubt sitting in the back of her mind waiting to pop out and make her feel insecure, but her confidence is and will (fingers crossed) continue to grow.
Jay Jay and Honey looked very cool but tired after their fun in the water so Nicky and myself sat down by the river bank to refresh ourselves with coffee and Nicky's homemade cordial.
I made sure Jay Jay was by my side, giving her time out and my attention, something which she needs a lot more of during training sessions to calm her excitement levels, bless her, she is like a human on to much caffeine, he he thats me :)
 So jay jay by my side, coffee in hand, friend chatting to me, crickets in abdunance in the field that the farmer had just hayed with the great round bales still standing in the field and as ever the Arlington church standing as our back drop. Dragonflies dancing on the water and a mystical swan in the distant, mystical because as I watched the swan take flight it turned into two white doves, HONEST :) They had been so far up the river by the bank that when I looked I thought they were one lone swan, but as soon as they lifted up, I realised it had just been an optical illusin, that or Nicky had stuck something in her Raspberyy cordial that she had given me, he he he!
Thinking this could not get much better a herd of really cute cows with calfs at foot, came walking past us on the otherside of the river bank. They were more than likely on route to their next shade patch for that time of day as all were looking hot but chilled out :) Even the bull tagged along with the cows & calfs. They were a  mix bunch, certainly some Sussex cows in there and some mixed breeds, certainly Jersey mixed in them, so all looked very cute.
It was just Idyllic, and I could have stayed there all day but time was passing and we needed to move on :(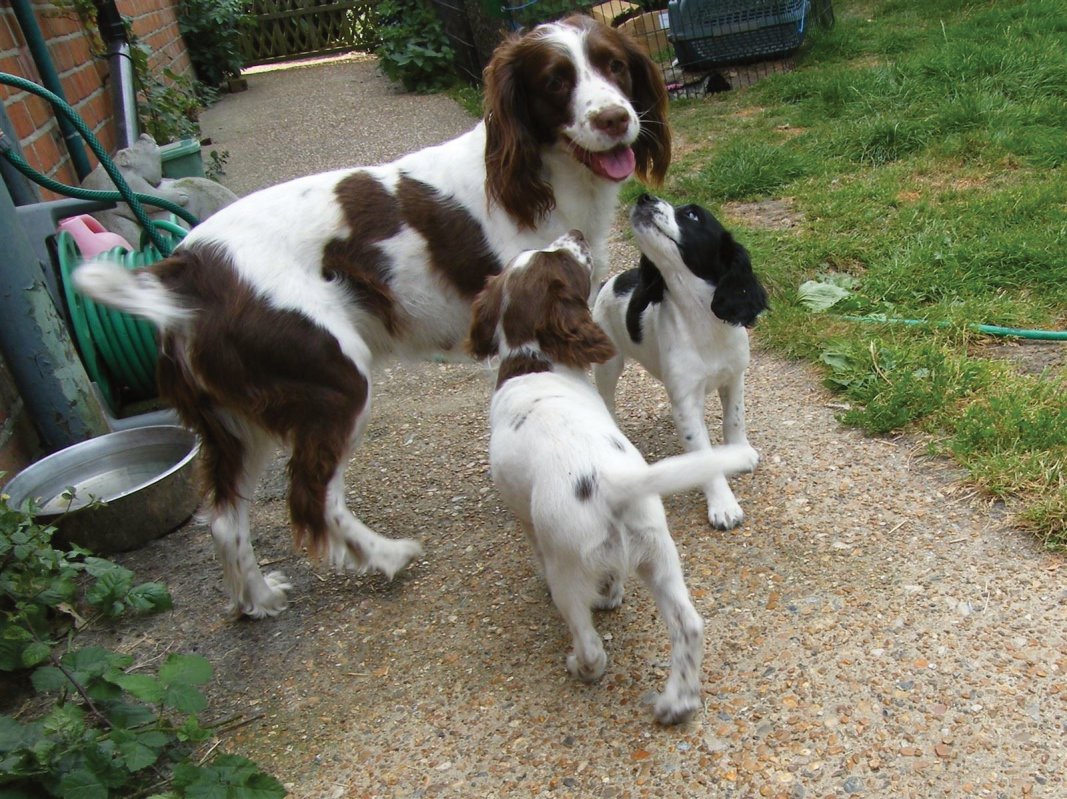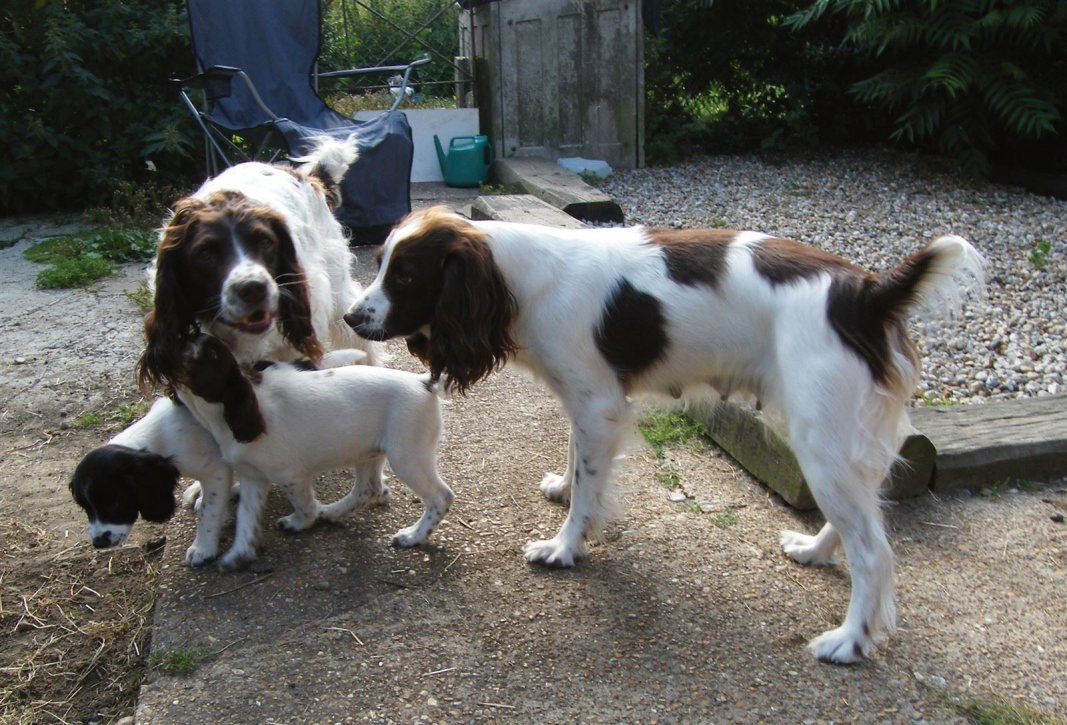 The young ones are doing well, and are now allowed with the whole pack when they are outside, which they love. Grandma Bella sulked when we stopped breeding from her and turned into a nasty Grandma with Mia's last years litter but this year our sweet Bella is back to her loving self and has excepted the two pups into her pack, we adore Bella.
The pups have also had their second jabs at the vets on monday, where I thought Ellie was going to wag her tail off she was wagging it so much and Tink's licked our poor vet clean, he he he
Not one yelp from either pup when the needle went in, though Tink does have a tender spot there now, byt that will soon go :)
Mondays are great days as most monday's at least one of the puppy owners comes to us for a family walk, which our dogs love and so do I. This Monday Vicki came across in the morning with JJ (Mia's 1st litter) and we did our normal walk across the fields and through the woods. With the wheat getting tall, the name of the game is, spotting the dogs through their 'bow waves' as both JJ and his Grandma Bella, stick their nose to the scent lines in the crop. Bless them they even collide with each other last week, so intent on the scent and not looking where they were going.
Now with the puppies here, our Jay Jay and Mia have been neglected, so I was determined to get Jay jay out for a good trip. So in the afternoon Nicky, with her Honey, picked us up and we headed of to the cuckmere and my farouite spot by the river. Clever Nicky took made this clip from slow motion footage she took with her camera of the two dogs having a great time
Where we go to has concrete slopes running into the water, which is great for the dogs, and a clear view to throw dummies to the otherside of the bank.
Though the reason I love it there?
It is a most peaceful place. 
Just down stream, and in view of us is an iron bridge which leads you to the Arlington Resevoir where even an Ospey or two can be spotted on a good day.  It lies in open fields and with just the right breeze the long white grass with it's dancing butterflies and musical grasshoppers could rock you to sleep for a naughty afternoon nap. The church steeple is always in view and just adds the last piece to the artist canvas. Just to add perfection for us, a single tree has been placed to make a wonderful natural Summer parasol.
Good company, idylic spot and the dogs thoroughly enjoying themselves,
what more could anyone want? Ah yes, one more thing, the time to go into the wonderful Yew Tree Inn afterwards
/