Shopping Cart
Your Cart is Empty
There was an error with PayPal
Click here to try again
Thank you for your business!
You should be receiving an order confirmation from Paypal shortly.
Exit Shopping Cart
Training and everyday events.
2012 Training with David Lisett at the Buccleuch Kennels
We were so spoilt as it was Just Gary, myself and a lovely Lady and friend of ours called Sarah.
Therefore we had an awful lot of very valuable time with Davie.
We started of with coffee and talks, David asking what we wanted to do over the two days and getting all the details from us about the dogs. After we gave Davie all the information, Sarah, Gary and myself all agreed we would go with what Davie thought was the best plan of action, and as always Davie gave us all we wanted and more.
We started of with David getting one of his pups out, showing us some ball work with his beautiful springer and how he would go about teaching our two (Ellie & Tinks) sit, heelwork and retrieving. It was something we have seen David do many times now but it helps to see it once again, always a refinement we missed the first time around and of course for Sarah being her first time there something she would gain an awful lot from seeing.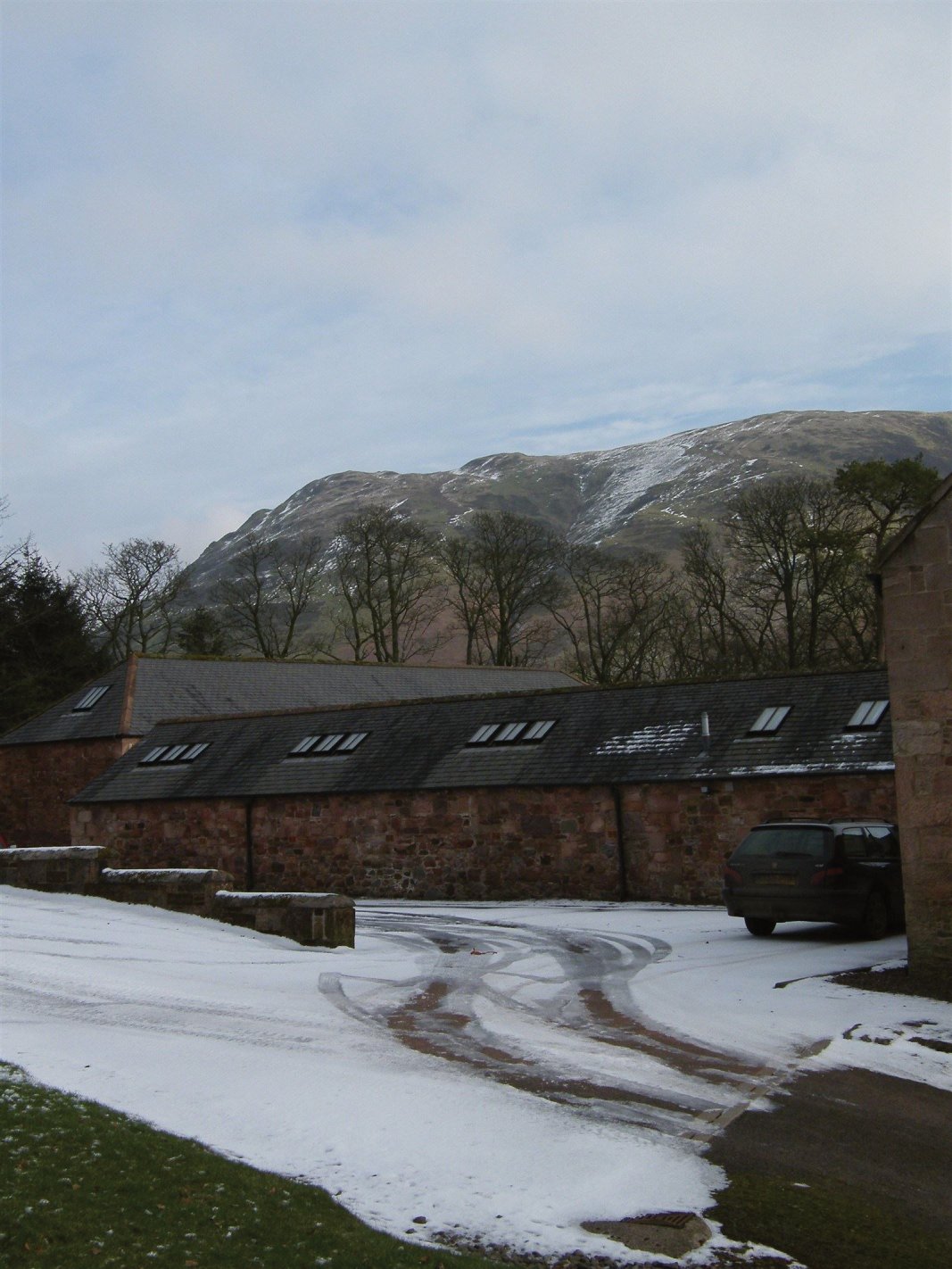 Ellie & Tinks then got to do some retrieving work at the back of the kennels with David throwing tennis balls which rolled into the wood, Tinks and Ellie, especially Ellie following the scent line running down the hill into the woods without any thought in her head except to find what was at the end of the scent line. Then seen balls thrown over the little hill, this was Tinks turn to excel, hunting away until she found the ball.  David was very pleased with them both, and so were we.
It was then the turn for the next age group, which was our Jay Jay who is two and Sarah's Fizz who is just under two.
We worked them in the rabbit pen and done direction work over the walls. Jay Jay didn't fly over the walls on the first day as she did the year before, though thankfully she performed really well on direction work and wall jumping the following day, doing all we asked of her very cleanly and with pace. 
It was bliss and an extra bonus to hear David in the background saying 'Really good, really really really good' every time I worked Jay Jay on direction be that over the gully or over the fences, that girl (as her mother) has an immediate stop to whistle and takes direction well.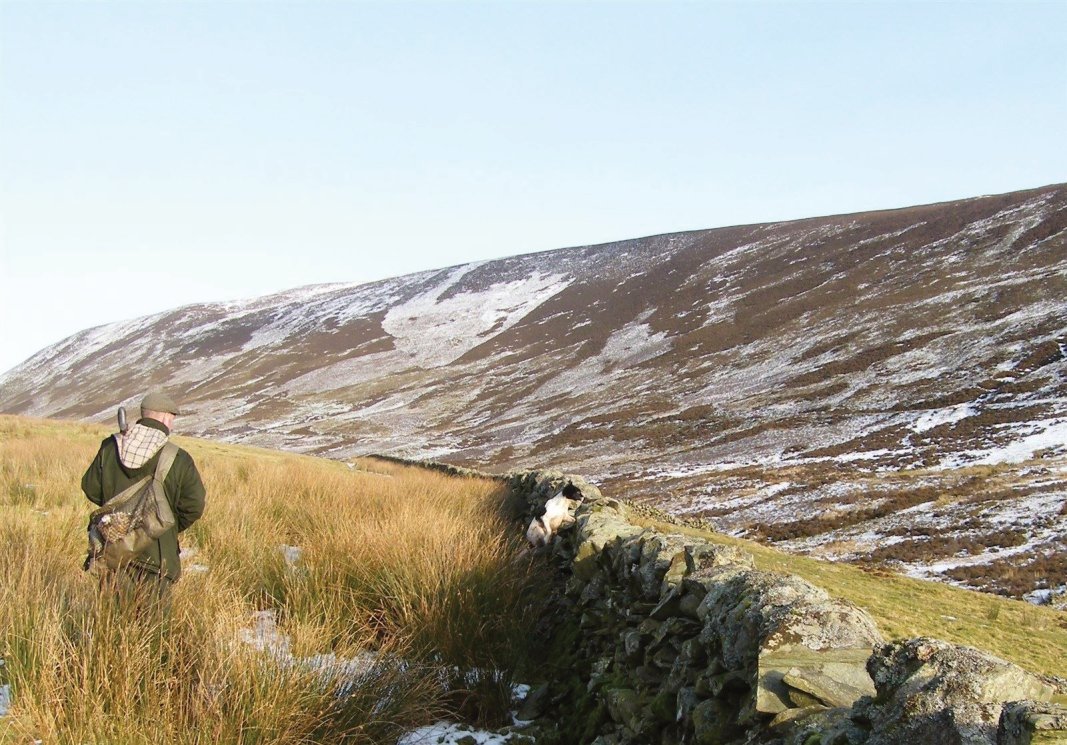 We then went off rabbitting with David and where he took us was absolutely stunning, especially with snow still on the mountains and the sky alight with the winter sun.

That man comes up trumps every single time and Scotland is certainly a place that holds many hidden beauties, this beautiful landscape was in the Durisdeer Hills.

We got to work the girls there, though ironically we didn't find rabbits until we swapped to our older girls. It pleased Mia so to work the heather and boy did she work it well. Warmed my heart to see her hunt the ground as she always does, not missing anything, tail wagging non stop and the glee on her face when she flushed the bunnies and the glee on my face when she stopped to flush, even after so little, if any, training since summer.   

We are honoured to have that girl and she gave us a great gift with her children. David said of our Mia, as he does every time he sees her that 'he could shoot happily all day with Mia', and you can

 

The following day we were able to work the pen again but my Jay Jay has clicked what a rabbit pen is all about so did not flow as she does when outside a pen. As David said  if you put a gun next to Jay Jay she lightens up/goes up many gears/ is a different dog. I hated seeing her work in there even though she flushed some rabbits only taking a few paces on one and gently bobbing one out of a bush. When I look back at the video though you can see it was handler error as well.

 

We also got more time with the pups, David showing us more techniques and clever ways to train the them and basically giving us more insight to the way they think. We then moved on to the adult girls doing more directional work with all of them. Mia had us all in stitches, again her age/cleverness meant she spotted that Davies fence only went so far up where it then disappeared into the slope of the hill, and she didn't even need to come to the fence to spot that one, she weighed that fact up long before then. So, she did a perfect stop, took the direction perfectly, picked the retrieve up perfectly and then shot of at an angle to take the easy route back to me, PERFECTLY, he he he. We all roared with laughter, Davie said he knew what his summer job would be....digging that ditch to continue the fence up, bless him! 

 

We all gladly went back indoors after another busy and successful day, as it was bitterly cold on the second day and it gave David plenty of time to clarify everything in our minds,  and to give us our plan of action for each dog. Not including Mia of course as she is already singing and dancing and exactly as we would want her.

 

Davies plan for Jay Jay was exactly what we had already said we were going to do but it is so good to hear from the likes of Davie that 'yes that is what is needed'.... more play, more praise, and just more fun, taking the pressure of her.

Polishing work!

 

The pups, well plan of action there is to get on with it as they have it all there :) Gary will not just be training Ellie up as a peg dog as he had planned, that wee girl will be trained up as the rest of them as she has bag loads of talent and the eye issue just isn't an issue!

 

I came to realise on the journey back that David was right, I am far to hard a critic on Jay Jay and myself and that when i get low she really gets low.  

We have a cracking girl in Jay Jay but because I knew we had done so little training with her last year because of the knee damage, it lead me to do to much hunting with her taking the joy of it all away from her.  

 

Jay Jay and I will go back to our old ways of having fun and enjoying our training sessions. Mia can start going out for a training session nearly every day and the pups, well I think my knee can take it now, so we will get on training them, especially as they showed so much promise at Davids.

 

In Conclusion, we came away from Davids knowing that once again he had pulled all the stops out for us and that the three of us were very lucky people.

Davids training method of constant praise and making the dog think that being by you is the most magical place in the world is one Gary and I greatly believe in, and with the stunning views and facilities of The Buccleuch Estate and a trainer of Davids standing, one cannot fail to learn and throughly enjoy the time spent there. I must add a thanks to Victoria, Davids Kennel maid and a Diamond, many thanks Victoria. 

 

Gary and I had a long time on the journey home to discuss all that had taken place and we both felt very proud of our girls, and we look forward to the summer of training and the start of the shoot/trialling season.

 

This is the time of year when people will be sending their dogs off to be trained up by the professionals, if they haven't done so already, for the start of the shooting season. They do this mainly to resolve issues they have not been able to put right and/or to give their dogs plenty of opportunity to be shoot over as here in south

 we do not have the ground or abundance of rabbits that are up north.

I'm meaner to the professionals I know as they have to put up with me :) For while boarding your dogs with a professional, to then get it back now doing all that you ask off it is great for some, for us it would not be so. Jay Jay is our sweetheart and we could never send her away. Plus I feel, for me, the joy is in the partnership I have with our dogs and the achievements we make together

So to hand her over to a professionals would be like cheating on a test and us.

So after our session yesterday with Jay Jay in the field to see what she was like after her few weeks off, we formed a plan of action for her. ....

....The main one being that we will hopefully give her the shooting season she was meant to have last year. A full shooting season (fingers crossed) will give Jay Jay the experience she needs and has yet had because of the barb wire incident she had not long into last year shooting season.We are also going to do some days with a group of people on a friends farm, more in a trialling style than shooting on those days, which will be great and something we will look forward to as the person who owns the place is a wonderful host and friend, plus Gary gets to shoot, bliss.

These days will be a total gem for Jay Jay and I as with me not being a driver the opportunity for Jay Jay to be shoot over are not enough.

We are also hoping to do a fortnightly training session with other people we know, one being an excellent trainer and another being a fab cake maker :)

Then in February we will round it off with a trip up to David Lisett, date yet to be confirmed but Davey has promised to fit us in for our two days with him in Feb, and I will hold it him to it :) DL's input will be much wanted as the pups will be the right age for assessing, and gaining his opinion on what to do with them will be invaluable 

So with all that planned I had better get her training underway which will be reviewing the basics and building her confidence, getting her in a calmer state of mind as she is always waiting with heighten anticipation of what is next to come, so much so her brain can't take in the information I'm giving her because she is 6 paces ahead in her mind :) 

My task to aid all this,

To get fit, enjoy and to not Panic, 'Don't Panic' he he he

 

The puppies are thriving and playing well outside with not one blink to the sounds of the outside world.

 

Jay Jay and the grandparents have sniffed and said hello through the puppy pen fence and soon they will all be able to play with one another. Well, as soon as the young pups are old enough to take the rough and tumble of the adults running away from their sharp puppy teeth.

 

They have had more visitors, one being Nicky who came over today and played with them whilst trying to the brave their bites and now very sharp teeth :)

We have also started to grate train them, which they make easy as they love falling asleep in their play boxes.

 

Jay Jay

 

We escaped yesterday for a short while to Tonbridge, to do some training with Chris Burns of Breezeleaf Kennels, A fabulous chap and a good trainer.

We went to shoot ground and trained in pairs as if it was a test, and with Chris, Karl and Gary there, and Sarah with her dog working along side, it was a very good session. You cannot put a value to finding good people to train with and to do so in a small group is such a benefit for dog and handler

0

/