Shopping Cart
Your Cart is Empty
There was an error with PayPal
Click here to try again
Thank you for your business!
You should be receiving an order confirmation from Paypal shortly.
Exit Shopping Cart
Training and everyday events.
This is the time of year when people will be sending their dogs off to be trained up by the professionals, if they haven't done so already, for the start of the shooting season. They do this mainly to resolve issues they have not been able to put right and/or to give their dogs plenty of opportunity to be shoot over as here in south
 we do not have the ground or abundance of rabbits that are up north.
I'm meaner to the professionals I know as they have to put up with me :) For while boarding your dogs with a professional, to then get it back now doing all that you ask off it is great for some, for us it would not be so. Jay Jay is our sweetheart and we could never send her away. Plus I feel, for me, the joy is in the partnership I have with our dogs and the achievements we make together
So to hand her over to a professionals would be like cheating on a test and us.
So after our session yesterday with Jay Jay in the field to see what she was like after her few weeks off, we formed a plan of action for her. ....
....The main one being that we will hopefully give her the shooting season she was meant to have last year. A full shooting season (fingers crossed) will give Jay Jay the experience she needs and has yet had because of the barb wire incident she had not long into last year shooting season.We are also going to do some days with a group of people on a friends farm, more in a trialling style than shooting on those days, which will be great and something we will look forward to as the person who owns the place is a wonderful host and friend, plus Gary gets to shoot, bliss.
These days will be a total gem for Jay Jay and I as with me not being a driver the opportunity for Jay Jay to be shoot over are not enough.
We are also hoping to do a fortnightly training session with other people we know, one being an excellent trainer and another being a fab cake maker :)
Then in February we will round it off with a trip up to David Lisett, date yet to be confirmed but Davey has promised to fit us in for our two days with him in Feb, and I will hold it him to it :) DL's input will be much wanted as the pups will be the right age for assessing, and gaining his opinion on what to do with them will be invaluable 
So with all that planned I had better get her training underway which will be reviewing the basics and building her confidence, getting her in a calmer state of mind as she is always waiting with heighten anticipation of what is next to come, so much so her brain can't take in the information I'm giving her because she is 6 paces ahead in her mind :) 
My task to aid all this,
To get fit, enjoy and to not Panic, 'Don't Panic' he he he
Tomorrow will be a big day for the puppies and a pretty hectic day for us.
First thing in the morning we are off to our local Vets to have all the puppies 'vet checked' and for them too have their first inoculations, bless their little hearts.
They will have their brave older sister there to show them the way and plenty of sausages for when the vet strikes.
Won't that be fun, 7 lively happy puppies to control. Aren't i pleased the school holidays have yet to start as it means I won't have to beat the children off them he he :)
In the afternoon we are off to see the opthalmic vets too just clarify everything about Ellie's eye. We will take Tinks with us as well (i think) to keep Ellie company as it is going to be a busy day for her, ahh :( and having a litter sister to cuddle up to on the journey back will be comforting for her
They have all been wonderful this week, apart from teeth, wow are they getting a good bite on them now, ouchy!
They are also showing their own wonderful personalities.
Ana would be the boss if the other pups would let her, a true 'don't mess with me unless your ready to party' he he he. And, as all the other puppies, loud nosies do not phase her one bit, trucks, bangs screams nothing. Though twice she has ran away from women in skirts :(
Healthy reaction though in the sense that on her second encounter with one, I got the people to ignore her and within a few moments she had made her way up to the daughter and promptly sat on her lap demanding attention :)
As all the other puppies, she is totally into the retrieving.
And don't tell her this, she is the most asked for girl, he he he!
Lizzy is a minx, she has us in stitches all the time. She is just a joy to watch and we are always waiting to see what she gets up to next. She can talk for England though, I know just like myself :))
Rosie is our thinker, a clever one that thinks then dives in, no holding back. She also has such a sweet look to her, you feel a warmth from her and a calmness. Though don't get me wrong, she is certainly still a springer and can be as mad as the rest of them, though as soon as you call her she is there by you.
Moses, bless him, his the only man, ahhh. Sometimes you can see him think, 'bloody women' he he he. But he gives as good as he gets and he is into everything.
His our cool dude!
Phoebe would take control of the pack if she chose too but she does not choose too. She is a live wire but with that she has the same calmness to her that Rosie has, except Phoebe doesn't think she just dives in :)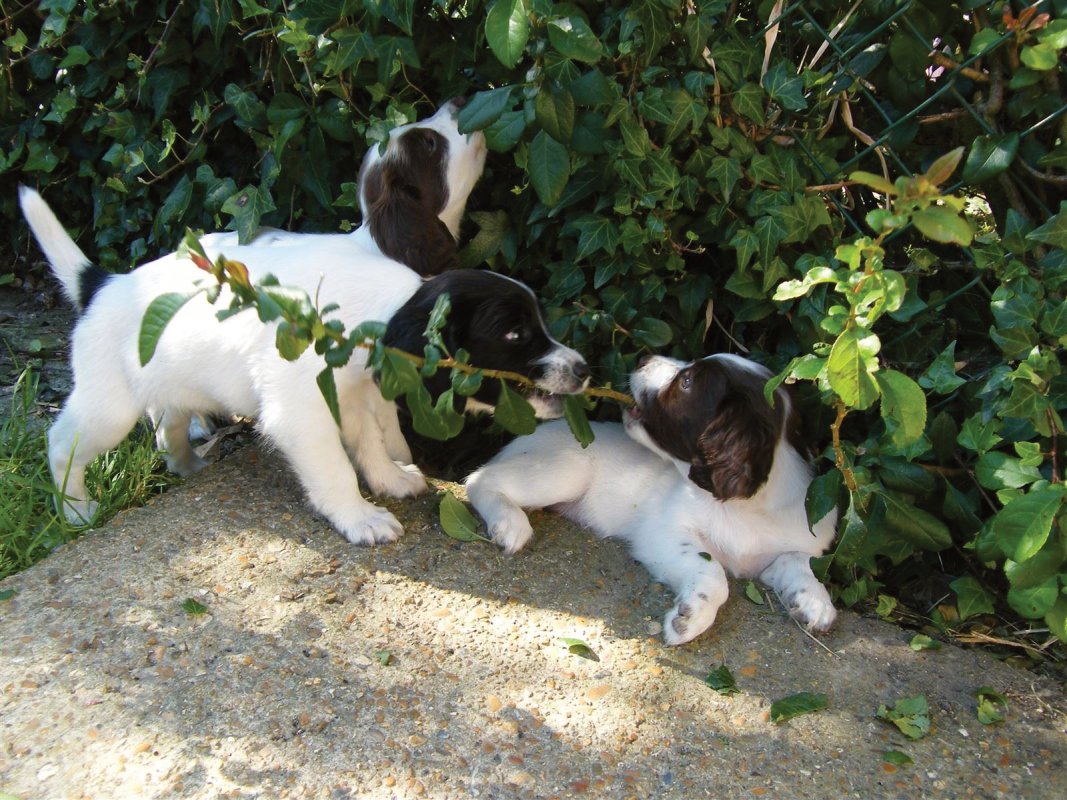 Ellie and Tinks, well I am not going to say much about those two ... Why? Because I am totally in love with them both.
Ellie is a darling in that as soon as she sees me she comes running, feisty, cheeky, love her.
Tinks sometimes comes to call, but has a way about her that reminds me of my wonderful and beautiful Jay jay.
So basically when the pups go, tears will be had, but I promise not to cry in front of their new owners.
Please click on pics to enlarge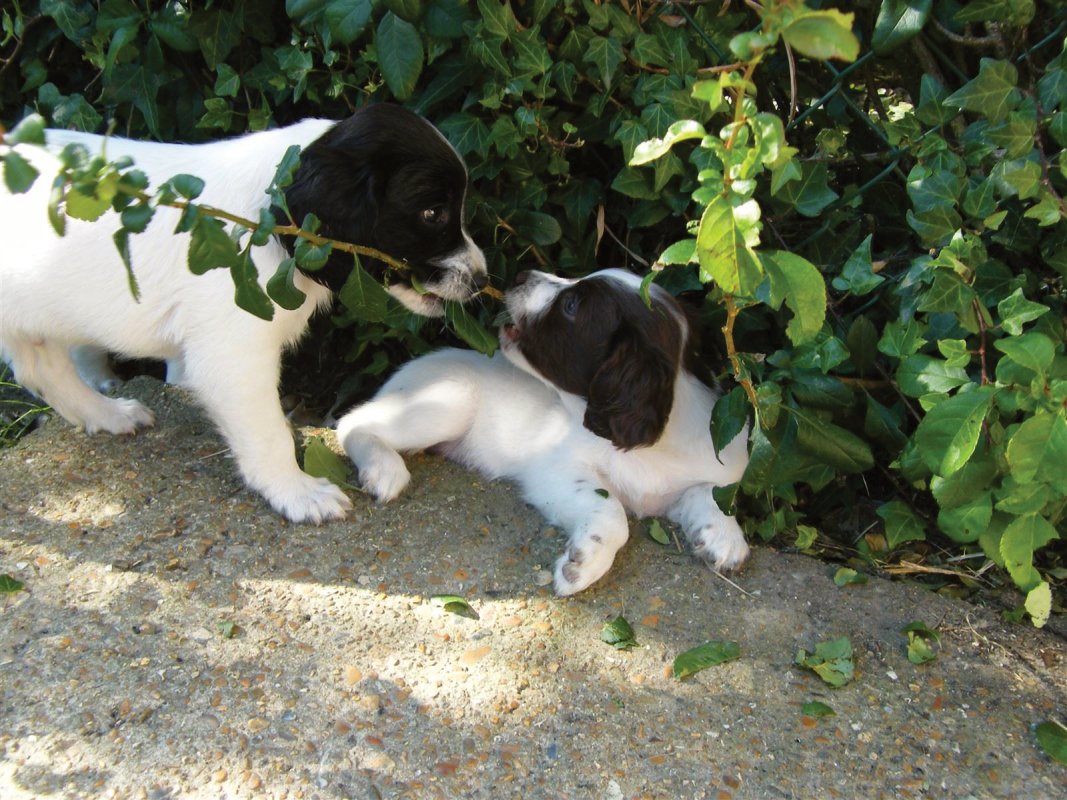 Well we have come to that time where the puppies experience many things and the adults become shattered from providing.
It is a wonderful time though.
They are taken out first thing in the morning to do their business and have a play.
With thier new real live play toy often with them, their older sister Jay Jay, who is a sweetheart to them and will be a fabulous mother when her time comes.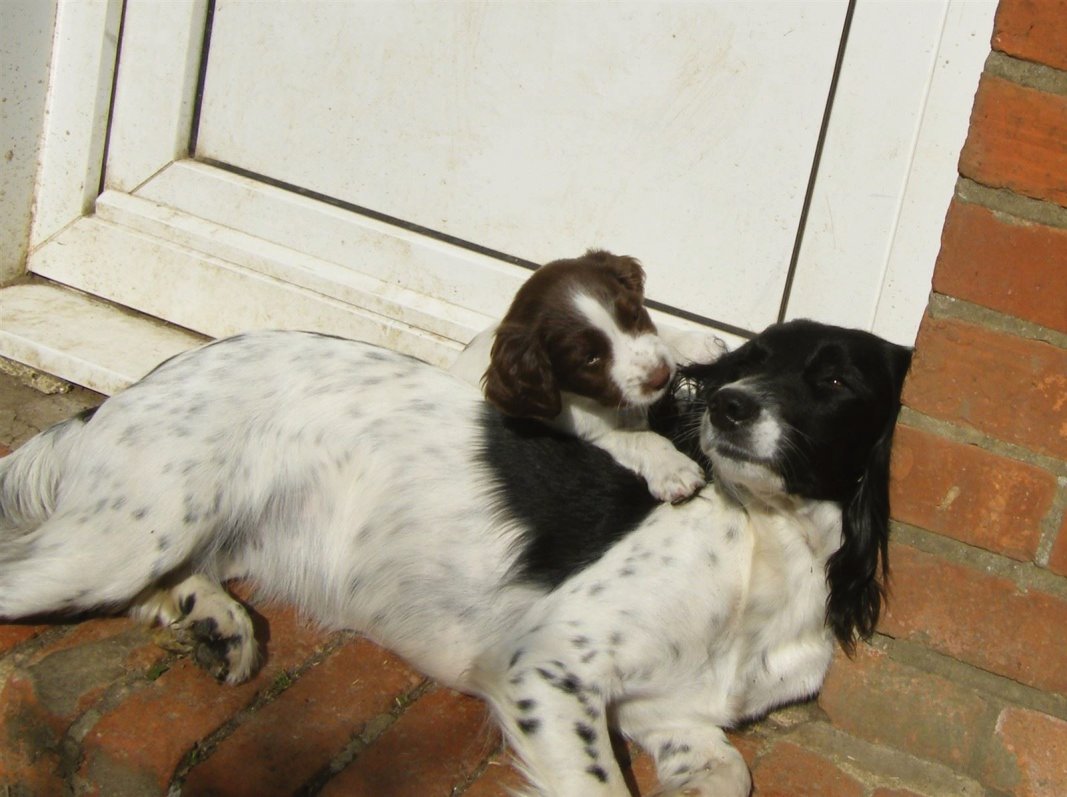 We do have a puppy pen garden for them but most of the time they are allowed the whole of the side garden to play in, and they love that.
They have even foraged through the undergrowth journeying through hills and treacherous ravines. Well ok, it was our red heather, dug out holes , watering cans and long grass, but it's huge to them he he he.
They have even come across in the past day a huge hairy mamouth, their Grandad, and they thought he was great fun. Though they thought his undercarriage was really funny :)
They also get plenty of play time with us, and now a bit fun training though they would not know it. We walk around encouraging them to follow us with a few mouth clicks or hand clapping, and plenty of praise when they arrive.
We have also just started giving them a couple of retrieves each of the tennis/rabbit ball making sure we encourage them into us and leave them attached to the ball in our arms, plenty of praise before doing it again.
The ones who had the retrieve fun yesterday passed with flying colours, and the rest shall have that experience by the end of the day. 
We will hopefully make a journey with the pups as a pack into the back garden were ducks and chicken scent lie in deep undergrowth :) Ok very long grass he he.
I shall report on both later :)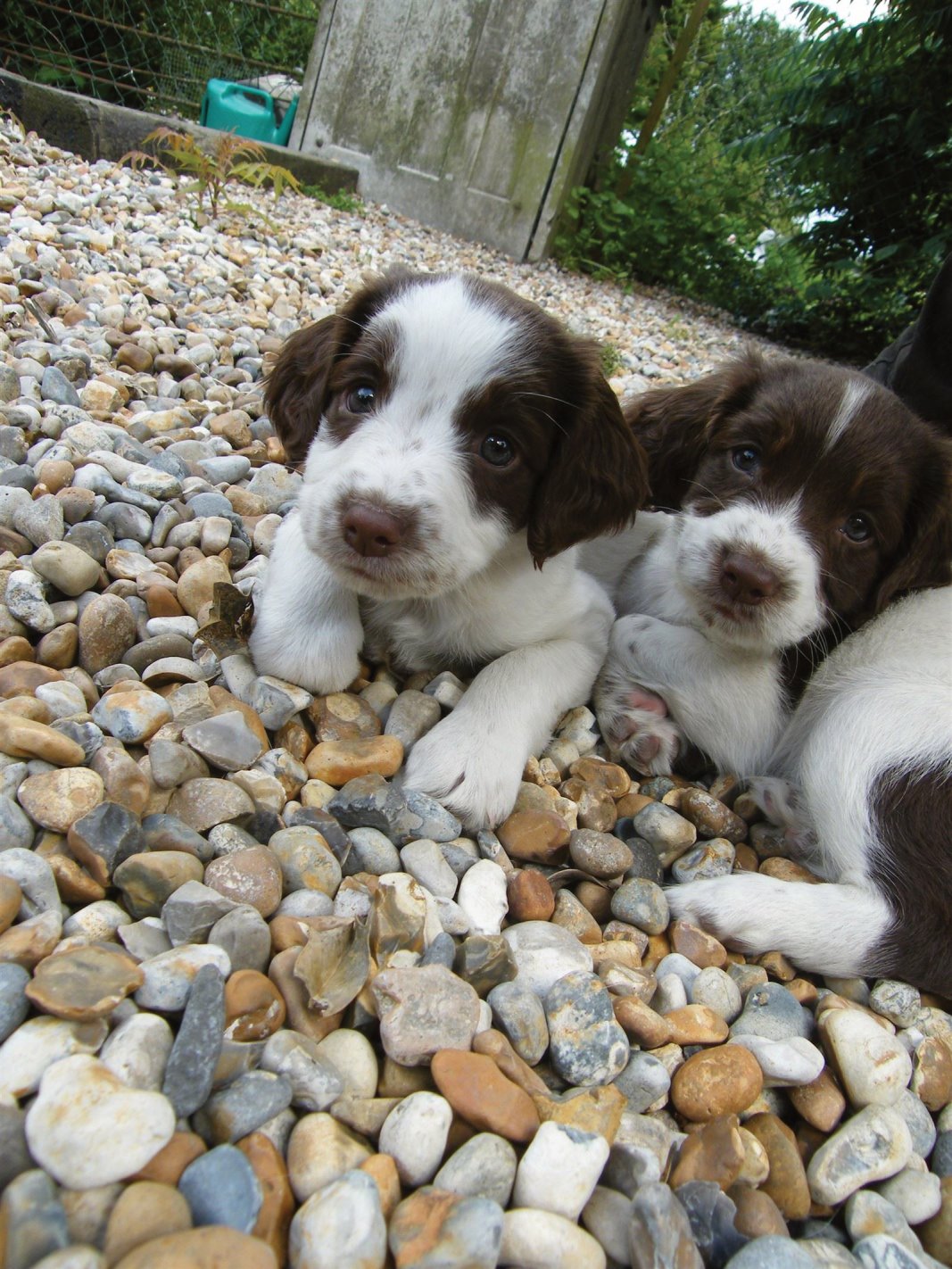 The rest of their day consists of much the same thing for them, fun, food and more fun, except as soon as they start to fall asleep we take them in so they can cuddle up and fall asleep in their crates.
We do all of this to get them use to such things for when they leave us, and it's our way to start teaching the puppies that their crates are the clean area and outside is where you do your business :)
It is an awful lot of work but we want the puppies to have the best start in the world we can provide. So we give as much stimuli as we can and try to put them on the right road to making their owners and themselves, very happy.
We also love it, so we shall miss them when they go. The adult will enjoy getting my attention back though, bless them!
This blog will be about the everyday training and day to day events of Alfie, Bella, Mia and Jay Jay, our wonderful Alfinmarsh Gundogs. It will also have the updates that we receive from the puppy owners and any events.
Just to give you a taster of what we get up to, their is a quick piece of the past four weeks below. From then on I will  try to update on a regular basis with more detail
Hope you Enjoy
Busy Four Weeks
we have had
Our first trip away this year was to the Spaniel Championships in Northumberland, and what a cracking time we had. Great people who shared their time with us even though this was 'The' event
of  the year for them. 
We even ate at the top table as the Spaniel Club really do take care of new people, and they knew the only people we knew (at the time) had not arrived yet. We cannot thank Liz, Steve and Barry enough for their kindness to us
We stayed at a beautiful B&b which was owned by a couple who made sure all our needs where catered for. Wonderful large room with a very comfortable bed.
It was whilst there David ( David Lisett ) gave us a dvd of Ftch Buccleuch Pepper, who we will be mating with Jay Jay when she comes into season.
Below is a you tube clip Of Jet Aka Ftch Buccleuch Pepper
We then came back to finish up the shooting season, taking Jay Jay to the shoot to give her the experience she needed. Because of a torn tongue (5 stitches which meant she was out for over a month) she had only been on shoot one other time. Apart from the shock she got from the electric fence (which should have been off) all went very well and I could not fault her as she worked hard and well in the beating line, and when on peg she sat quietly, doing as asked and even chasing down a big and hard runner. Mia when on shoot (out for some of the season with a ripped teat for a while) was a total sweetheart to me, as she always is. 
Then  we made the bi annual trip up to Davids for two days training with him at the Buccleuch Kennels. Anyone who can get a chance to see David and train with him, really should take the opportunity to do so, he has a way with dogs that is a vision to behold. Gary and I consider ourselves very lucky in being able to train with David, and with Nick Gregory from Hamptworth Estate. Just a Shame David is in Scotland, and Nick in Hampshire. The views are stunning at Davids as the picture below shows, but unfortunately (unlike the pic below which was taken last August) the weather was against us this time and rained throughout on the second day. But still worth the trip as we picked up a few more tips from him to use with the girls. The tips I will pass on over the next week.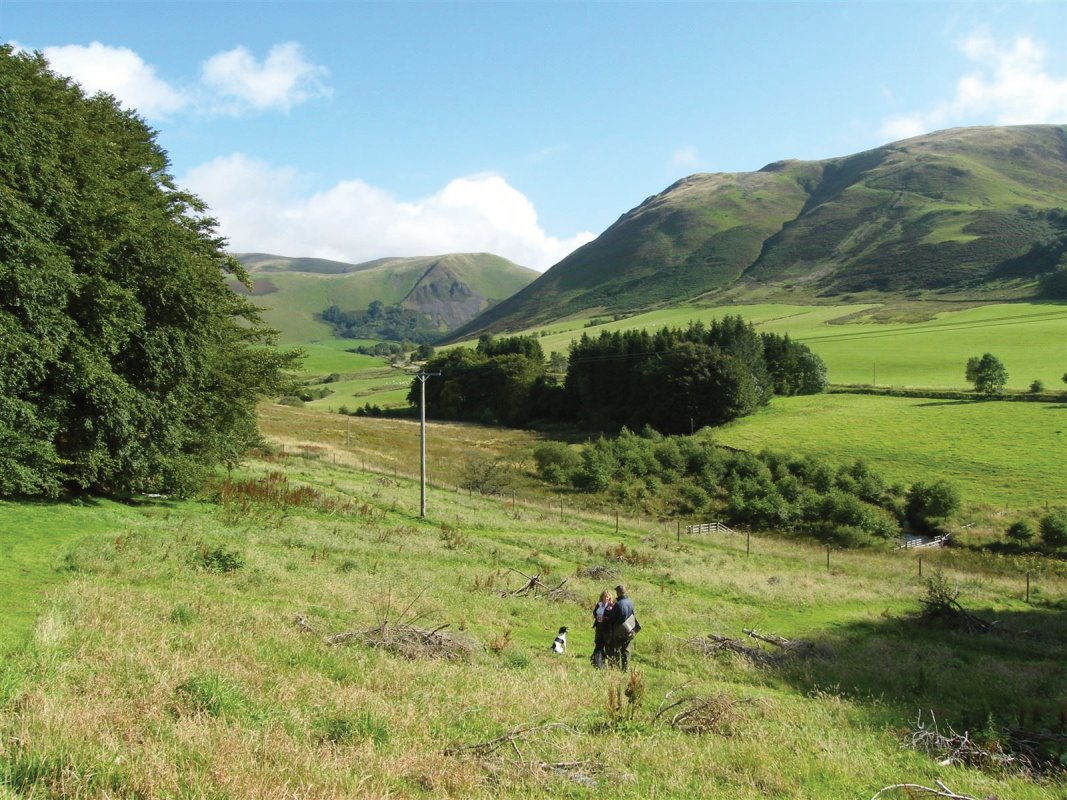 /